Dhanteras, a day of good fortune and prosperity
New Delhi, Wed, 07 Nov 2007
NI Wire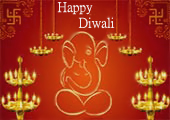 Nov 07: Today is Dhanteras and is the first day which mark the beginning of five long day celebration of Diwali festival, the festival of lighting 'diyas' (lamp).
This day prior to Diwali is also called as "Dhantrayodashi" or "Dhanwantri Tridoshi" which falls on thirteenth day of Krishna Paksha in the month of 'Ashwin', October/November according to Hindu calendar. This is also in adulation of Dhanwantri, who was the physicians of god and an incarnation of Vishnu.
An auspicious day in Hindu calendar reflects its importance of being the day that brings good fortune and wealth. People buy precious metals like gold, silver coins or utensils but with the change of tradition there are plenty of options to buy from which range from buying a vehicle to a house.
As there are many festival marked for different gods, this day is dedicated to Goddess Laxmi, which is Goddess of wealth and prosperity.
This celebration has an interesting story of a sixteen year old son of king Hima, who was predestined to die by a snake bite on the fourth day of his marriage. On that day after his marriage he was not allowed to sleep as his wife laid all her ornaments at the entrance and went on telling stories and singing songs.
As it was destined, god of death 'Yama' as snake tried to enter the Prince's chamber but was bedazzled by the lights of ornaments at the entrance, he climbed at the heap of ornaments and sat there listening the song and next morning he went away.
This day is also celebrated as Yamandeepdaan as the young wife saved her husbands life, a diya is kept burning whole night on Dhanteras in admiration of Yama, the god of death.
In another legend it is believed that when the Gods and demons churned the ocean for 'Amrit' nectar, Dhanvantri the physician emerged carrying a jar full of Amrit on the day of Dhanteras.
Preparation became high as Diwali comes, homes, offices and all other business establishment is decorated with beautiful tiny lightings, flowers and rangoli.
There is also a tradition of exchanging gifts among friends and family members.
May this light of joy and prosperity sign on you this Diwali.
Happy Diwali!