Love never fails, denotes the biography of Sunil Dutt and Nargis 'Darlingji'
New Delhi, Sat, 03 Nov 2007
Pallavi Sharma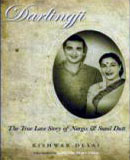 Nov 03: The very first thing which catches the eye in the book of Kishwar Desai on the relationship of Sunil Dutt and Nargis, two stars of Bollywood, is the title of the book 'Darlingji' an address which two loving souls used to give each other.
This simple term used for dearly loved one with Indian suffix very simply and clearly speaks volumes about the nature of their love, the romance amid difficulties and complexities of life. There could have been no better title for such long-standing relationship of faith and love.
Book traces their life since their childhood, their life before meeting and after and their married life focusing at the relationship of both along with the pinning of contemporary developments in society, cinema and country. A striking thing in the book, which steals the heart of the reader, is the continuous romance in the relationship even after the trials and visitations in life. A parallel thread of love survived every tribulation.
Sincerity traced in the relationship of the two souls in the initial period of their relationship, Sunil Dutt's natural fears and apprehensions due to differences of their stature in the industry have been beautifully sketched by the author.
A chapter has also been devoted to much talked about Nargis' association with Raj Kapoor with main focus on the films they did together without tearing the dignity. Those who associate Nargis' love life with Raj Kapoor miss the intensity of a pure love shared by Nargis and Sunil Dutt and this book does such myths away based on gossips. This is another remarkable feature of the book that it does not include the instances which originated in gossips but is a result of one year long research on their relationship.
Book touches on the sensitive and humanistic characteristics of both Sunil Dutt as well as Nargis called ' Fatima' at home. The book may be a guiding factor to those who don't understand through out their life what went wrong with their love and married life.
Excerpts from the letters and diaries of Sunil Dutt and Nargis give the book a realistic touch that a real life story seems a reel life one with all Bollywood content. But what makes this an object of celebration is that this is all true love, romance, faith, care and understanding………………………..
Desai herself says that their story is a classic example of social cohesion, a good idea of what India meant to be.
This affectionate biography of two loving souls weaving their love for each other must be read once to know that fancy can be incorporated in today's complex life too. And life should be lived up to its full and not just passed.
The love of Monroe and Presley (they used to address each other) just reminds me of following lines from Bible.
Love is patient, love is kind.
It does not envy, it does not boast, it is not proud.
It is not rude, it is not self-seeking.
It is not easily angered, it keeps no record of wrongs.
Love does not delight in evil, but rejoices with the truth.
It always protects, always trusts, always hopes, always perseveres.
Love never fails.