Manmohan lays foundation of Jorhat Medical College
Guwahati, Mon, 25 Aug 2008
NI Wire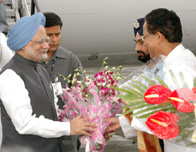 Prime Minister Manmohan Singh on Monday laid the foundation stone of Jorhat Medical College at Jorhat in Assam, and flagged off a Mobile Medical Unit in the first day of his two-day visit to Assam.
After laying the foundation stone, Dr. Singh addressed the attendees and expressed joy for this latest progress held in health infrastructure sector of Assam. "I take pride in laying the foundation stone of the Jorhat Medical College in this seat of learning and scholarship in Assam," said Dr Singh in this speech.
Manmohan, who is the Rajya Sabha member from Jorghat, appreciated the state Chief Minister Tarun Gogoi for his valuable efforts to set up a medical college in Assam. Jorhat Medical College will be one among the three proposed medical colleges in Assam that will join the list of already existing medical colleges at Guwahati, Dibrugarh and Silchar.
Later, he also flagged off a Mobile Medial Unit, the mobile medical service in the district that is a part of National Rural Health Mission under which several new mobile medical units are proposed to be operating in the 17 districts of the state as part of supporting medical facilities in the state.
These mobile medical units will be equipped with latest equipment, diagnostic facilities like- X-Ray machines, microscopes, ECG and Ultrasound machines and Autoclaves, mobile pharmacy and a complete team of doctors, nurses and laboratory technicians to reach medical care to every corner of the State.
Speaking over the status of NHRM in the state, PM said that state has stepped adequate measures for strengthening rural public health infrastructure in Assam and the early results are encouraging. "The impact of the improved health care infrastructure is evident from the fact that the institutional deliveries in the State have in the last four years have doubled," he said.
Under NHRM Mission, the villages of the State are today being served through over 26,000 ASHAs (Accredited Social Health Activists) who are each provided by a radio set. Over 4,000 Auxillary Nurse Midwives (ANMs) along with 2,440 other nurses and doctors, Ayurvedic doctors and specialists have been added in health units.
Expressing concern over the crunch of doctors, nurses and medical infrastructure in the country, PM said, "One of the major challenges we face in our country is for providing adequate medical facilities for our growing population. This in turn depends critically on the availability of trained medical professionals. We have a major shortage in our country of both trained doctors and trained nurses."
"The shortage of human resources is equally evident in the other rungs of our health system like nursing. The Planning Commission has projected a shortage of nearly one million nurses in the country in the next five years. Nursing has provided many job opportunities to women and contributed to their empowerment in some States of the country," added Manmohan.
Relating the requirement of nurses and women empowerment, Dr. Singh said, "We need a large number of nurses to support our healthcare institutions. The women of the North-East are well educated and progressive in outlook. I have no doubt that, given the right opportunities; we will see large numbers of lady doctors and nurses from the North East in different hospitals and health care institutions of the country."
Commenting over the innovative efforts of the state for beginning the 'Boat Clinics' that some districts have initiated with the help of Non-government organisations to provide health services to people in riverine areas, PM said, "In a country large and asymmetric like ours, we need to have multiple and innovative models for health care delivery and these initiatives are a testimony to that objective. I am very happy that Assam is giving the lead to the rest of the country in healthcare facilities."