Brahmacharini is the second manifestation of Goddess Durga
New Delhi, Sat, 13 Oct 2007
NI Wire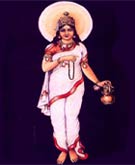 Oct 13 : Second form of the goddess is Brahmacharini which means she who makes 'Tapa' her conduct. Brahma means 'Tapasya'. This second form or manifestation of Devi Durga blesses her worshippers eternally. She her self is the practiser and symbol of sacrifice, detachment, good conduct and restraint. This form of goddess represents spiritual strength and blesses her worshippers with the same qualities. The person who observes such conduct never deviates from the path of duty. He is proved victorious in every field by the grace of this goddess.
The appearance of this form of goddess is grand and full of light. She carries in her right hand a chain of beads for chanting and 'Kamandalu' in her left hand.
This name of the goddess came as its own story behind it. In her previous birth, she was born to Himalaya and prayed hard to get Shiva as her husband. So due to hard 'Tapa' she was named Brahmacharini.
This is said that she passed one thousand years without taking any thing else than fruits. She sustained rain and heat of the sun while observing hard fast. She worshipped Shiva for three thousand years by taking just leaves shed by the tree. For thousands of years she kept on doing 'Tapa' without having food and water. As she left even taking leaves, she was also called 'Aparna'.
Everybody gods, saints, munis appreciated her act of 'Tapa' an unprecedented. It is said that then Brahma himself announced from the sky, "hey Devi! Nobody has done such hard Tapa till yet. Only you could have done it. Your wish will definitely be fulfilled. You will get 'Shiva' in the form of husband. Now you should return to your father. He is waiting for you."
Today the second day of the Navratra this goddess named "Brahmacharini' is worshipped.