An evening of folk music extravaganza!
News Releases, Thu, 07 Aug 2008
NI Wire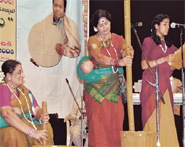 A gala event with euphoric folk music and jubilant folk dances with young and old clad in traditional folk attire was celebrated in memory of the renowned folk music singer Janapada Brahma, Janapada Ratna, Late Shri. Manapragada Narasimha Murthy at Ravindra Bharati, Hyderabad, AP, amidst an ecstatic audience and a packed crowd on August 5, 2008.
The 9th annual event conducted by Amatuer and Professional Singers Organisation (APSO) with support and sponsorship from Folk Arts Music and Research Institute (FARMI), USA, was presided by Shri. L. V. Subramanyam, State Chief Secretary for Health, Medicine, and Family Welfare while Shri. K.C. Cheramana, Deputy General Manager, Union Bank of India attended as a Special Guest. Speaking on the occasion, Chief Guest, Jnaanpith awardee, Padmabushan Shri. C. Narayana Reddy (Cinare) said that he was influenced by folk music right from his childhood and that he has folk music was instrumental in providing him literary insight into the Telugu language. APSO Founder Secretary, Shri. K. S. R. Murthy played the pivotal role in organising this event.
The evening continued amidst resonating "Dappu"s and thunderous applause all evening. "Bonaalu", "Jaatara", "Palle Nivasam", "Farmers' Songs", etc., were a few of the themes of the folk songs that left audience spellbound and in trance. Speaking on the occasion, Special Invitee and Founder Chairman of Siliconandhra, USA, Shri. Anand Kuchibhotla mentioned that his organisation will encourage and help popularise the folk arts in the USA. Shri. Manapragada Narasimha Murthy Award for Excellence in Folk Arts was presented to popular folk singer Shri. C. Nageshwara Rao by Cinare.
An Audio CD titled "Anthe Naaku Chaalu", containing folk, light, and devotional songs renditions of Late Shri Manapragada, was released by Cinare. The CD was compiled by Shri. Manapragada's sons, Shri. Sai Manapragada and Shri. Srinivasa Murthy Manapragada who currently reside in the USA. The CD, in its attractive layout, contains ten of the most popular and rare songs in folk genre that have been used for Adult Education, AIDs Awareness, No Child Labor, and Child Literary Program initiatives by the State and Central Governments to enlighten the rural folk about the basic evils of society through folk songs.
The "Janapada Sangeeta Vibhavari" included noted performers including C. Nageshwara Rao, S. Prabhakar, Mekala Narayana, Chandrateja, K. V. Ramana Murthy, Snehalatha Murali's group, M. Vijayalakshmi and K. Vanisri. Noted instrumentalists Satyender, K. Achchibabu, Vamsikrishna, Krishna Murthy, Dappu Srinivas, M. Venkateshwara Rao, and T. Veerabrahmam provided the orchestra support.
The organisers feel that inculcating the importance of folk music and popularising the folk arts are very important today when the essence of our identity gets constantly lost in the modernisation of music. In an effort to bring the rightly deserved notoriety to the folk arts, the organisers are planning Guinness Record attempts at a very large scale event for the 10th year festivities where they plan to enlist rural and local talent by conducting statewide talent search competitions and provide a platform for the winners to display their talents.
www.janapadabrahma.org