Book on India and Arms Trade Treaty released in New Delhi
New Delhi, Thu, 23 Apr 2009
Nava Thakuria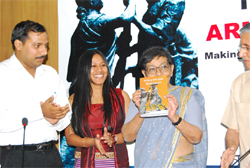 The Arms Trade Treaty is an idea that which the Government of India should continue to engage in, said Arundhati Ghose, India's former ambassador to United Nations. Releasing a book titled "India and the Arms Trade Treaty: Making Disarmament Meaningful to People's Lives" in New Delhi recently, Ms Ghose also called upon the international community on looking at the need to add "manufacturing" within framework of an Arms Trade Treaty.
She mentioned that the work on ATT does divert attention from the United Nations Programme of Action on Small Arms and Light Weapons. She concluded her address by mentioning that the book is an excellent collection of essays regarding the various aspects of proliferation of arms in India and urged upon the Government of India to work with the Indian civil society on addressing the issue of armed violence.
Published by the India Research Press and edited by Binalakshmi Nepram, the book was launched on April 17 at India Habitat Centre. The programme was attended by a number of eminent personalities from different walks of life, where the welcome address was delivered by Lt. General (retd.) Dr. B. S. Malik, who is also the President of the Control Arms Foundation of India.
Kamla Bhasin of SANGAT stated that conflict and war have no future. She spoke of clash of civilisation which according to her is due to two P's (people and profit). Advocate Baban Prakash spoke of how the global principles of an Arms Trade Treaty reflect India's values and constitution. Prashant Dikshit stated, "Our country is facing a terrifying situation not only due to the uncontrolled illicit proliferation but also by uncontrolled illicit manufacture, production, and supply trade".
The book, which is forwarded by Jody Williams, 1997 Nobel Peace Laureate, is a result of several years of research done on the subject by eminent scholars, former military personnel, lawyers and civil society. It is an analysis done on how an Arms Trade treaty can benefit India. An Arms Trade Treaty can save lives and help prevent attacks like the Mumbai terror attacks and hold countries responsible whose arms cause the death of innocents worldwide, informed Binalakshmi Nepram, the founder of Manipur Women Gun Survivors Network and also the office bearer of CAFI.
The contributors of the book include Prof. Anuradha Chenoy, Air Cmde. Prashant Dikshit ( retd.), Ms.Ashima Kaul, Mr Riju Raj Jamwal, Dr. Bibhu Routray, Mr. Baban Prakash, Ms. Binalakshmi Nepram, Ms Reena Mutum, Mr Deba Mohanty, Colonel Utkarsh Rathore, Ms Clare Da Silva, Dr Shubram Rajkhowa, Ms Vijayam Raghunathan, Dr Thokchom Meinya.