What's in Govt's Lokpal Bill?
New Delhi, Fri, 23 Dec 2011
NI Wire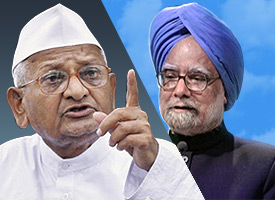 The Congress-led UPA government on Thursday, December 23, introduced the Lokpal and Lokayouktas Bill in parliament. Looking at the drafted Bill, it seems that Government has accepted most demands of civil society while keeping a few under its purview, directly or indirectly.
While the veteran social activist led Anna Hazare and team have stiffly opposed the Bill for not bringing the Central Bureau of Investigation (CBI) under the supervision of Lokpal, a section in political circle has shown their displeasure over 50 per cent quota for minority members in the proposed constitutional body.
Team Anna member Arvind Kejriwal has so far rejected the bill and demanded its withdrawal. He said 'most of the politicians, government officials, companies and political parties were not brought within the ambit of the bill, in that sense the Bill has failed to protect the interest of the people'.
Former senior police officer and civil society activist Kiran Bedi too voiced the same and demanded the inclusion of CBI within the ambit of Lokpal. She is of the opinion that 'the CBI is full of skeletons in its cupboard ... and the longer a party has been in power, there are more skeletons comparatively. And the day you open...there is an option of opening it, there be too many things will tumble.'
Amid all oppositions, let's have a look at some of the silent features of the Cabinet-approved Lokpal Bill for the creation of an anti-graft ombudsman with Constitutional status.
Citing Lokpal and Lokayukta as autonomous and independent bodies of investigation and prosecution, the Bill has underlined a uniform vigilance and anti-corruption road map for both Centre and States.

Lokpal will consist of a Chairperson and a maximum of eight Members of which fifty percent shall be judicial Members. At the same time, fifty per cent of members will be from amongst SC, ST, OBCs, Minorities and Women.

All members including the Chairperson shall be selected by a Selection Committee that consists of Prime Minister, Speaker of Loksabha, Leader of Opposition in Lok Sabha, Chief Justice of India or a sitting Supreme Court Judge nominated by CJI and eminent jurist to be nominated by the President of India.
Lokpal jurisdiction
Prime Minister to be brought under the purview of the Lokpal with subject matter exclusions and specific process for handling complaints against the Prime Minister. Lokpal cannot hold any inquiry against the Prime Minister in allegations relate to: international relations, external and internal security of the country, public order, atomic energy and space.

Besides, any decision of Lokpal to initiate preliminary inquiry or investigation against the Prime Minister shall be taken only by the Full Bench with a majority of 3/4th. Such proceedings shall be held in camera.

Lokpal to investigate corruption cases against all categories of public servants including Group 'A', 'B', 'C' & 'D' officers and employees of Government. On complaints referred to CVC by Lokpal, CVC will send its report of PE in respect of Group 'A' and 'B' officers back to Lokpal for further decision. With respect to Group 'C' and 'D' employees, CVC will proceed further in exercise of its own powers under the CVC Act subject to reporting and review by Lokpal.

All entities receiving donations from foreign source in the context of the Foreign Contribution Regulation Act (FCRA) in excess of Rs. 10 lakhs per year are brought under the jurisdiction of Lokpal.

Lokpal will not be able to initiate inquiry suo moto.

No prior sanction shall be required for launching prosecution in cases enquired by Lokpal or initiated on the direction and with the approval of Lokpal.

A high powered Committee chaired by the Prime Minister with leader of the opposition in the Lok Sabha and Chief Justice of India as members, will recommend selection of the Director, CBI.

Provisions for confiscation of property acquired by corrupt means, even while prosecution is pending.

Lokpal to be final appellate authority on all decisions by public authorities relating to provision of public services and redressal of grievances containing findings of corruption.

Lokpal to have power of superintendence and direction over any investigation agency including CBI for cases referred to them.
In addition, the Bill has set timelines for both investigation and prosecution of cases. It has also proposed to enhance punishment under Prevention of Corruption Act. Maximum punishment is set from 7 years to 10 years and minimum is shaped from 6 months to 2 years.
While preliminary enquiry is outlined to be completed in three months which is extendable by three months, investigation is set for six months (extendable by six months) and for trial the proposed time period is planned for one year which is also extendable by one year.