O.P Jindal Global University Celebrates 5th Convocation Addresses at Arun Jaitley
New Delhi, Mon, 08 Aug 2016
NI Wire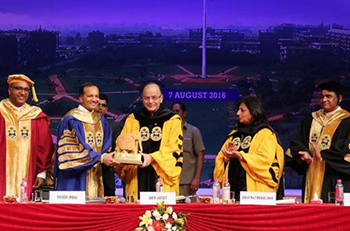 Finance Minister Arun Jaitley Addresses Students, Faculty and Parents at the 5th Convocation and Founder's Day Celebrations
317 students awarded degrees on successful completion of graduate and post graduate courses
Kiran Mazumdar Shaw, Chairperson and Managing Director, Biocon Limited graces the occasion
Chancellor Naveen Jindal announces launch of the Jindal School of Journalism & Communication next year
FM lauds JGU's contribution in promoting excellence in higher education in India
New Delhi, August 7, 2016: The state of the art, multi-disciplinary O. P. Jindal Global University held its 5th annual convocation today at the Siri Fort auditorium in Delhi. It was a spectacular event with Finance Minister Arun Jaitley addressing a gathering of over 1500 students, parents, and faculty members. The presence of Kiran Mazumdar Shaw, Chairperson and Managing Director, Biocon was a source of inspiration for graduating students who looked upon at her as a role model and felt inspired by her achievements.
Paying tribute to Shri O.P. Jindal Finance Minister Shri Arun Jaitley said, he was a visionary and realised early that businesses do not shape nations but policies and legislation do and thus deviated from the conventional course and built a political identity for himself, he has left a great legacy and Naveen by established this University is writing fresh history.
Speaking of India's demographic dividend, the FM said, "In most developed countries population is reducing but in India the population is yet not stabilised. With global integration we will need more hands and minds, HR becomes a very important economic resource and to train manpower institutions of excellence are required. Jindal University I have no doubt is going to be one such institution."
Speaking of building institutions of excellence Mr. Jaitey said, "India needs to choose 20 institutions and upgrade them to become global institutions and JGU has to strive to be amongst the top 10 which make it to the world rankings."
His advice to the graduating batch was to pursue excellence and think outside the box as "the world has started respecting excellence much more than ever before, the space for excellence at the top is always vacant, mediocrity is part of the crowd at the bottom." He further highlighted that "the market which is willing to absorb fresh graduates is large and global, thus Jindal students were blessed to have been taught by global faculty and have acquired global perspectives."
Speaking of the opportunity that India has he said, "The whole world is in slow down mode but India is defying that trend for the first time in history we are coming out better than the world, this is great opportunity for graduates as there is a vacant fast track and you all have to strive to occupy that position. "
Sharing her thoughts on the occasion, Ms. Kiran Mazumdar Shaw, CMD, Biocon Limited,emphasized that students need to get passionately involved in converting challenges into opportunities and helping in alleviating human suffering while creating wealth and prosperity for all. "Always remember that 'perseverance' is the key to success and 'failure' is temporary but 'giving up' is permanent," she said.
Mr. Naveen Jindal, Chancellor, O.P. Jindal Global University expressed his thanks to the FM and Ms. Shaw for gracing the occasion. Congratulating the graduating students, Mr. Jindal said, "We have come a long way since 2009, when it all started. Today, JGU is being accepted as an exceptional private university in India that has produced high quality research. He stressed the fact that quality higher education contributes to the economic growth and human development of a nation. He pointed out that when a nation substantially increases the number of students in its universities, it is more likely to see a surge in its economic growth and impacts social development. "At JGU, we are striving to develop world class research and teaching that is socially beneficial and globally relevant," he said.
He announced that the university proposes to establish the Jindal School of Journalism & Communication from the next academic year. "Our strategic goal is for some schools of JGU to break into the top 200 of the world universities in the next 5 to 10 years," added Mr. Jindal.
In his address, Professor (Dr.) C Raj Kumar, Founding Vice Chancellor, O. P. Jindal Global University lamented the lack of incentives to promote research excellence in Indian universities causing the country to lag behind universities in the developed world. He pointed out that a very small number of Indian universities have pursued internationalisation as a core strategy to promote deep institutional partnerships with universities across the world, and reap the benefits of international collaborations for teaching, research and the student experience.
He underscored JGU's commitment to promoting the role of women faculty. "47 percent of our faculty members across the five schools are women, with 38 percent of JGU's leadership positions tenured by our women faculty members."
Speaking on internationalisation Professor Kumar said, "We are proud that more than 80 percent of our faculty members have international qualifications from the leading universities of the world and nearly 20 percent of our full-time faculty members are international. This is significant given that we are a very young university."
Highlighting the universities accomplishments Professor Kumar said "In March this year, JGU was awarded the highest rating, 'A' grade, in the first cycle of accreditation by the National Assessment and Accreditation Council. JGU is the first and only private university in Haryana to receive the 'A' grade. However, we are conscious not to rest on our laurels.
Prof. Kumar further lauded the achievement of the students. "It is a proud moment for the University to see our students graduating and preparing themselves to make a mark in the professional world."
The convocation was a grand and gracious affair with the presence of a host of luminaries. It was well attended by students and faculty from all five schools of the University. The sense of pride and jubilation among the graduating students, their faculty members and parents was palpable.