Bariatric Surgery: It may reverse the liver damage in case obese patients
New York, Mon, 05 May 2014
NI Wire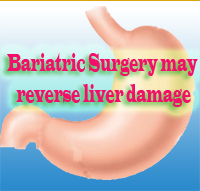 In a new study it is reveled that the weight-loss surgery is helpful in reversing the early stage of liver damage. After Bariatric Surgery it is found that the thickening and scarring of the liver tissue, early stage of liver fibrosis can be reversed and this is happening due to reduction in the fat deposits.
It is is also good for the obese patients of the nonalcoholic fatty liver disease (NAFLD). Bariatric surgery can also result in significant improvement in nonalcoholic fatty liver disease (NAFLD), according to new research.
"Doctors should consider bariatric surgery as the treatment of choice for NAFLD in severely obese patients," said Michel Murr, a professor of surgery at University of South Florida-Tampa.
Bariatric surgery be considered for patients with a body mass index greater than 35 and obesity-related co-morbidities, or a body mass index of greater than 40, Murr suggested.
Researchers compared liver biopsies from 152 patients - one at the time of the bariatric procedure and a second an average of 29 months afterwards.
After reviewing post-operative biopsies, they found that bariatric surgery resulted in improvements for these patients.
In the post-operative biopsies, researchers found that fat deposits on the liver resolved in 70 percent of patients.
Inflammation was also improved.
Murr noted that these findings on fibrosis reversal apply only to early-stage fibrosis and not late-stage liver disease.
"As a tool in fighting obesity, bariatric surgery could also help prevent the emergence of widespread liver disease," he added in the study that appeared in the journal Digestive Disease Week (DDW).
Bariatric surgery is also known as weight loss surgery includes a variety of procedures used by the Surgeons to help the obese patient in reducing their body weight. In case of Bariatric surgery the size of the stomach are reduced with the help of a gastric band or it can be done by removing the certain portion of the stomach.
Studies shows that in long-term due to Bariatric surgery, patients gets the following results:
Long-term loss of the weight
Recovery from diabetes
Improvements in the cardiovascular risk factors
Reduction in mortality of 23% from 40%
(With inputs from IANS)
Related: How bariatric surgery can help control diabetes.