45 injured in a train accident in Assam
Guwahati, Wed, 16 Apr 2014
NI Wire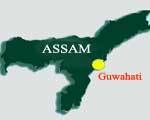 In a shocking incident, at least 45 people were injured when nine coaches of a passenger train derailed near Guwahati in Assam on Wednesday.
According to sources, the accident took place around 2.15 a.m. between Aujuri and Jagiroad stations of the Northeast Frontier Railway. The train had left Dimapur in Nagaland Tuesday night and was to reach Guwahati early Wednesday.
Railway official S. Lahiri said at least 45 passengers received minor injuries.The railways cancelled eight trains and terminated four following the accident.
Also, five trains, including the New Delhi-bound Rajdhani Express, have been halted at various stations.
(With inputs from IANS)