Arvinder Singh Lovely meets Chief Secretary for various demands
New Delhi, Tue, 04 Mar 2014
NI Wire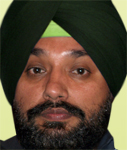 A delegation led by the former Urban Development and Revenue Minister and President,DPCC Sh. Arvinder Singh Lovely called on Chief Secretary, Delhi Shri S. K. Srivastava today afternoon at Delhi Secretariat.
The delegation members brought following issues to the notice of the Chief Secretary during the meeting. Delay in disbursement of Old Age Pension and Widow Pension- The Delegation highlighted
the delays in payment of widow pension in South West district and also delays in payment of old age pension. It was explained by Pr. Secretary (Social Welfare) that pension in South West district was delayed on account of lack of funds. Now adequate funds have been received in the Revised Estimate and the payment will be made soon.
In case of old age pension, regular quarterly payments are being made to the beneficiaries except about 15,000 beneficiaries of above 70 years of age who were not
found residing at their address during physical verification. Chief Secretary directed that these beneficiaries be re-verified immediately. If necessary, special camps be organized and the pension should be distributed to the genuine beneficiaries immediately.
Delhi Annshree Yojana – The delegation quoted media reports about discontinuation of Delhi Annshree Yojana. It was clarified that Delhi Annshree Yojana was launched when there was a cap on number of BPL and AAY families who were getting highly subsidized ration under Public Distribution System. With launch of food security under the National Food Security Act 2013, 73 lakhs people can be covered under food security and will receive highly subsidized ration through PDS.
Therefore it has been decided to merge Delhi Annshree Yojana with National Food Security and provide food grains to the households who were covered under Annshree Yojana. The payment under the Delhi Annshree Yojana will be stopped only after these households starts getting ration under the National Food Security Act.3. Implementation of National Food Security Act – The delegation wanted to know the latest progress. It was explained to them that 32 lakhs people are already covered under the National Food Security Act since September 2013.