Nuclear-capable Prithvi-II missile successfully tested
New Delhi, Mon, 12 Aug 2013
NI Wire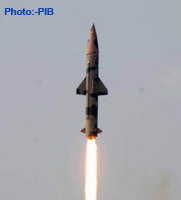 Strategic Forces Command (SFC) of the Indian Armed Forces on Monday successfully test-fired Nuclear-capable surface-to-surface Prithvi-II missile from the Integrated Test Range at Chandipur-on-sea in Balasore district, Odisha.
The launch was carried out at 9.20 a.m., as part of a regular training exercise.
A senior defense official confirmed the report saying the test was a hundred percent success and the missile reached the predefined target with a very high accuracy.
Prithvi-II missile is India's first self-made ballistic missile with a range of 350 km. It can carry a 500-kg warhead and can deceive anti-ballistic missiles.
Prithvi-II is one of the five missiles being developed under the country's Integrated Guided Missile Development Program.
The missile has an advanced inertial guidance system with maneuvering capabilities and reaches its target with a few meters of accuracy.
It has higher lethal effect compared to any equivalent class of missiles in the world.