Do's and Don'ts during Holi
New Delhi, Sat, 23 Mar 2013
NI Wire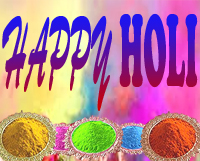 Holi has always been the most awaited Indian festivals as it symbolizes love, fun, joy and colors. Holi is always a great festival to celebrate if celebrated with harmony, which is the real essence of holi. But the concept of 'bura na mano holi hai' has taken another meaning in present context that has made it a rough festival when people try to cross the limits and that is when it gets dirty.
Celebrating holi is always considered to be a great fun, but the spirit of holi may get ruined if we don't be a little cautious and careful while playing holi. There are many Do's and Don'ts during Holi that should be kept in mind to experience true essence of the festival of colours. Below are some of them:
Do's
· Maintain the true spirit of holi by celebrating it with your close friends and family members.
· Wear old clothes that you can discard easily as the clothes will be of no use at the end of the day.
· Always prefer wearing full-sleeved t-shirts or shirts as they will protect your skin to greater extent.
· Use simple colours mixed with water.
· Apply some oil on your scalp and hair, and some lotion your skin as it will prevent you from the side effects of the chemical contents of the synthetic colours used during Holi.
· Keep the windows of your car closed if you are travelling.
· Use lukewarm water while removing the colours from your body.
· Put a cap or cloth on your head as this will save your hairs from being coloured with hard-to rinse dyes.
Don'ts
· Play friendly holi, avoid making it rough and rowdy.
· Discourage the use of eggs, mud, tar or gutter water while playing holi. It's never safe to play holi with such things.
· Avoid hard drinks like liquor or even bhang.
· Do not apply harmful colours on face of anyone who in not interested.
· Do not run or jump on the wet floors as this can be dangerous.
· Play holi with known people such as family and friends instead of unknown ones.
· Avoid using a beer as it has high contents of mica, which is very harmful.