Delhi Budget 2013-14: Sheila presents Rs 37450 crore budget, no new taxes
New Delhi, Thu, 21 Mar 2013
NI Wire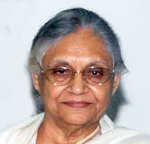 Delhi Chief Minister Sheila Dikshit presented a Rs.37, 450 crore budget for 2013-14 on Wednesday with a spate of schemes for various sections and infrastructure development and no fresh taxes.
Sheila presented a populist budget with an eye to the Delhi assembly elections scheduled later this year.
The budget allocates Rs.16, 000 crore for plan expenditure, Rs.21, 000 crore for non-plan expenditure, and Rs. 450 crore for centrally sponsored schemes.
Like last year, 65% has been earmarked for social sector with a total proposed outlay of Rs. 10, 359 crore.
Government has not proposed any fresh taxes while various commodities have been exempted from the tax net.
While there will be no tax on chilly spray used for woman's self defense, pencil boxes and geometry boxes, organic colors, rock salt, singhada (water-chestnut) and kuttu (buck-wheat) flour have also been exempted.
Footwear priced up to Rs. 500 has been exempted from Valued Added Tax (VAT).
Taxes on various other products have been slashed. VAT on desi ghee (purified butter) has been reduced from 12.5 percent to 5 percent, and taxes on LED lights also lowered.
The government expects to generate Rs.30, 454 crore from taxes.
Dikshit said the monthly pensions for senior citizens, differently-abled people and for women in distress has been increased from Rs.1, 000 to Rs.1, 500.
Trans-genders or eunuchs living in the capital for the last 3 years will get a monthly grant of Rs.1, 000.
Dikshit said the fiscal deficit would be reduced from Rs.2, 921 crore in 2012-13 to Rs.1,268 crore in 2013-14.
She said Delhi registered a 9% growth rate against the national average of 5%.
Dikshit also noted that the capital contributes 3.8 per cent to the national GDP and the per capita income is three times higher than the national average.
"We have taken path-breaking initiatives. Six new universities were established in Delhi. We have increased the capacities of hospitals from 24,025 to about 43,500 while other facilities have also been improved," she said.
Medical and public health facilities have been allocated Rs.2, 490 crore, 15.56% of the gross budget.
"There is an increase of 33 per cent in the allocation. I want Delhi to be the health and well-being capital of the country with emphasis on the holistic development of the sector," Dikshit said.
The lion's share in allocations has gone to the transport department, at Rs.3, 876 crore, accounting for 24.23 percent of the total approved outlay. This will fund 625 low-floor and 1,100 other buses to ply in Delhi this year.
The water sector has been allocated Rs.1, 665 crore, while Rs.1, 840 crore of 11.5% of the outlay has been marked for urban development.
(with inputs from IANS)