Ganga Mukti Mahasangram
New Delhi, Tue, 12 Jun 2012
NI Wire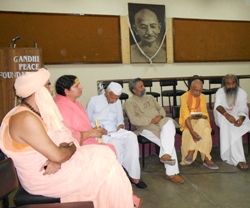 In a meeting of Ganga Mukti Sangram Saamiti today, it was discussed that river Ganga is equally important for people of all religions and it's the responsibility of all the people to join the movement to maintain the serenity of Ganga, apart from relegion.

'Ganga Mukti Sangram' will be started under the guidance and leadership of Swami Swarupanand along with the participation of priests of all religions. To initiate with the movement, Sankaracharya Kanchi Peeth Sri Jayendra Saraswati and puri Sankaracharya Sri Nischalanand will join hands and has decided to appeal people from other religions to join the movement.
Out of 11 groups participating in the movement, two groups have already reached Delhi and 9 groups are still to come.
Thousands of Ganga Devotees along with the 'Ganga Rath', will reach to Varanasi on 14th June and move to Allahabad, Kanpur, Matura, Vrindavan and finally reach to Delhi on 17th June.
The devotees have decided to gather at Delhi Rajghat in large numbers today as discussed in the meeting.
The movement is expected to be the largest among all the previous movements held in this regard with a huge number of participation.