Hampi Express rams with stationary goods train; 15 killed, several injured
Anantpur/Bangalore, Tue, 22 May 2012
NI Wire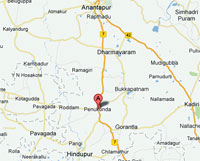 A Bangalore bound Express train (Train No.16591) coming from Hubli on Tuesday morning rammed with a stationary goods train at Penukonda station in Andhra Pradesh's Anantapur district leaving 15 killed and over 70 reportedly injured.
According to Railway sources, the over speed Hampi Express today morning collided with stationary goods train at around 3:00 a.m when allegedly train driver overlooked the signal that caused three coaches comprising two general bogies and one sleeper derailed.
Primarily 15 dead bodies have been recovered and over 70 injured passengers were rushed to nearby hospitals in Anantpur district while seriously injured were referred to Bangalore.
According to localities, the chances of more dead bodies are high as two coaches have caught fire and several passengers may be trapped in it.
The rescue operation is going on and the rescue workers were trying to reach inside in the coaches using gas cutters.
The train 16591 which left Hubli at 6 p.m. Monday, was to reach Bangalore at 6 a.m. The train originates in Karnataka and passes through parts of Anantapur district of Andhra Pradesh before re-entering Karnataka.
Prima-facie, it looks like that Driver overlooked the signal or there was some error in signal that cause this mishap, said a Railway official by adding that whatever, the matter was, Railway ministry has ordered a probe and the reason would come there after.
Union Railways Minister Mukul Roy has rushed to the spot and announced a compensation of Rs.5 lakh each to the next of the kin of the dead, Rs.1 lakh to grievously injured and Rs.50,000 to the other injured.
Andhra Pradesh's Minister for Revenue Raghuveera Reddy, who visited the scene, told reporters that the 70 injured were shifted to hospitals in Penukonda, Hindupur and Puttaparthi.
He said the entire district administration swung into action for rescue and relief work.
Another state minister Sailajanath and Member of Parliament K. Chiranjeevi also visited the scene of the accident.
Chief Minister N. Kiran Kumar Reddy directed the officials to provide all help to the injured and other passengers stranded at the station.
Helpline Numbers:
Bangalore: 080 22371166, 22156553, 22156554
Bellary: 08392 277704
Hubli: 0836-2345338, 2346141, 2289826
Hospet: 08394-221788
--With Agencies Input--