High fat diet can damage the arteries earlier than suspected
New Delhi, Wed, 04 Apr 2012
NI Wire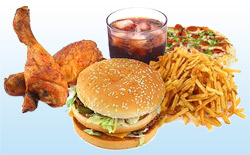 A high fat diet can damage you arteries earlier than expected and is one of the initial causes of high blood pressure (BP).
The internal wall of the large intestine becomes thinner and more elastic with increasing age leading to increasing weight and metabolic disease and thus contributing to atherosclerosis and high BP.
The findings were reported in mice by Marie Billaud and colleagues from the University of Virginia School of Medicine in the the Journal of Cardiovascular Translational Research.
Presently, researchers and physicians moving forward in the study to measure arterial compliance (a measure of arterial stiffness) in large arteries in the advanced stages of disease. However, this may not provide a clear evidence of when a disease begins and how it accelerates further, according to a Virginia statement.
Apart from that, the earlier studies have suggested that changes in the walls of small arteries are the most powerful indicators of cardiovascular diseases and early identification of these changes is quite important.
Billaud and his team compared the arterial compliance of two different sizes of arteries - carotid (large) and thoracodorsal (smaller) in two groups of mice out of which one was given with high fat diet for a period of six weeks, the other was the control group who were kept on a normal diet.
They observed that, the structural and mechanical properties of small arteries were changing rapidly among the mice who were fed with high fat diet for six months.
The authors conclude: "These results suggest that, at an early stage of obesity, the structural properties of small and large arteries are altered whereas arterial stiffness is only observed in small vessels."
-With inputs from IANS.