Rihanna's friends keep her grounded
New Delhi, Wed, 04 Apr 2012
NI Wire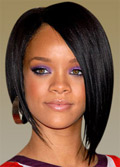 Singer Rihanna says her friends who are honest to tell the truth keep her grounded
The 24-year-old singer often turns to her close friends for advice, who never hesitate to tell her the truth -- about anything.
"They're brutally honest, and I need that. I turn to my friends all the time. I trust them so much. I don't care what the media think but I respect their opinions and their advice is never shady," moremagazne.co.uk has quoted her as saying.
However, the star loves being with her friends, sometimes she prefers to be alone, contactmusic.com says.
"I don't like being lonely, so I like hanging out with my friends. But sometimes you need that time on your own. I just had a weekend like that where I didn't see anyone, I didn't even watch TV. I slept for two days! I barely made it into the kitchen," she has been quoted as saying.
--With inputs from IANS