Delhi Police organized workshop on human trafficking
New Delhi, Wed, 03 Oct 2012
NI Wire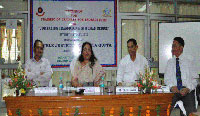 The Delhi Police has conducted a 3 days Regional Level workshop on Combating Trafficking in Human Beings organized under the aegis of BPR&D at Police Training College Jharoda Kalan, New Delhi.
The aim of this workshop was not only to sensitize the concerned Govt agencies about the growing problem of trafficking but also to help in preparing trainers to tackle this menace.
Gupta, Delhi High Court, who was the Chief Guest of the occasion. She highlighted upon the salient features of the Laws through which human traffickers can be booked and this crime could be curbed. P.M.Nair, DG/NDRF is one of the premier crusaders for combating human trafficking in the country and has been leading this mission from the front.
He stressed upon the need to change the attitude of Govt. agencies to treat women and girls rescued during raids as victims and not perpetrators of crime. Prosecution/police should use provisions of ITP Act, and try for closure of the brothel. He also called upon all the participants to join the mission to save every women & child from being trafficked.
Dr. Ms. Sunitha Krishnan of NGO Prajwala, Hyderabad in a hard-hitting and touching presentation, impressed upon the participants regarding psycho-social needs of the victims. She sensitized the prosecutors on the factors, which lead to young girls falling into the net of traffickers.
Mrs. Geeta Godambe, APP Mumbai highlighted the role of prosecution during and post trial. She also focussed upon victim rehabilitation and discussed regarding effective prosecution of the offenders within the ambit of law. She further armed the participants with latest relevant court rulings for forceful presentation of the case in courts.