Chittagong Movie Review: Flawless story, acting and direction, A must watch
New Delhi, Fri, 12 Oct 2012
NI Wire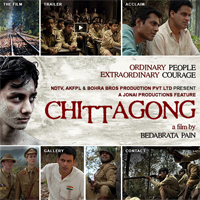 Directed by: Bedabrata Pain
Produced by: Sunil Bohra, Anurag Kashyap, Shonali Bose, Bedabrata Pain
Written by: Bedabrata Pain, Shonali Bose
Cast of Chittagong: Manoj Bajpai (as Surya Sen), Vega Tamotia (as Pritilata Waddedar), Nawazuddin Siddiqui, Jaideep Ahlawat, Alexx Onell
"Bedabrata Pain has given a superb film and very neatly brought back the whole story and surrounding of Chittagong during British Rule. No big names but story, acting and direction of the film are its USP."
Story:
Story of Chittagong is about few children who with a great leader showed courage and fought against the Britishers.
Surya Sen is a revolutionary leader of the Indian Republican Army, Chittagong.
He teaches in village school. During the time revolution against British are being carried out. One such plan is initiated by Surya which involves a hit on British armory, destroying the telegraph and telephone office followed by assassination of members of the European Club and to cut rail and communication lines of Chittagong from Calcutta.
The students of the school wants to be a part of revolution and so Surya trains them in martial arts, shooting and bomb-making. Does there plan gets successful and do they manage to chase away Britishers, to know go watch Chittagong.
Review:
Being a depiction of real story, and that too linked with Indian revolution, this film is altogether in a different genre. Bedabrata has superbly brought back that era, the pain the anger, the courage and all in the film.
Manoj Bajpai as the master is marvellous and so are the schoolboys. Actors who have played the characters of Britishers are superb as well.
Background music fits according to the situation.
Being based on the real Chittagong Uprising the USP of the film is its story.
Chittagong Official Trailer: