Uphaar Case: Remarkable Judgement in the Annals of Court
Vikash Ranjan, Fri, 23 Nov 2007
NI Wire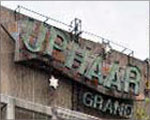 Nov 23: The argument of the advocate of Gopal Ansal, the prime accused in the Uphaar ablaze certainly shows how below one can be morally degraded.
Prem Kumar, advocate of Gopal Ansal sought clemency on the ground of his client's economic contribution to the country's progress. He argued that Indian economy would suffer severely if he was sentenced to a jail term, as Ansal Brothers were heading several estate companies worth over Rs 3,000 crore and was a leader of real estate. He said that one thousand people were directly employed by him while over ten thousand people were dependent on them.

Ansal-Brothers got 2-year jail imprisonment each for causing death by negligent act in the 1997 Uphaar fire tragedy, which claimed 59 lives.
No doubt the lawyer was doing his duty for his client and trying to make the judgement in his favour as he had the complete jurisdiction to argue justifiably or unjustifiably?
But as a human being doesn't he have moral obligation towards the victims?
It doesn't matter Gopal Ansal was directly or indirectly involved in the fire tragedy or not. But, he was certainly guilty of most callous kind of criminal negligence. And moreover, if Ansal was dealt leniently on the ground of "economic support to country", it would mean that each and every Big Corporate Houses, whose economic contribution to the country was indescribable, would have the right to be freed after committing any severe crime, even if they were not directly, but indirectly involve in it. This must not be the ground of any constructively judgment.
Ansals and three others -- Shyam Sunder Sharma, N D Tiwari (MCD officials) and H S Panwar (Delhi Fire Service) -- were held guilty under sections 304A and 337 and 338 of the IPC, which pertain to endangering human lives that carry two years as the maximum punishment.
Ten years are always a long period but relatives of the victims now can heave a sigh of relief that at least judgment came into their favour. Though the 2-year imprisonment was not enough for Ansal brothers, as relatives of victims were expecting more.