Indo-German Relations
New Delhi, Wed, 31 Oct 2007
Pallavi Sharma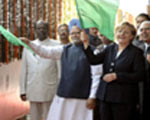 Oct 31: Germany's Ambassador to India, Bernd Mutzelburg once said that India and Germany are not only 'natural partners' but also 'important countries' in an increasingly globalised world. Words are coming literally true in view of the recent visit of the German chancellor Angela Merkel to India with a focus on various economic issues such as trade, business, and global issues as climate change, terrorism, UN reforms, human rights and political as well as developmental issues as nuclear deal with US, relations with Pakistan, and education, science and technology.
Indo-German relations dating back to 16 th century never followed a smooth path. There have been ups and downs of its own kinds but what is remarkable is that even after bearing the brunt of global as well as domestic politics, economics of both the countries now the relationship is heading towards maturity and complimentarity with immense potential to emerge as major players at global level in future and recently picked up the momentum since 2000 when agenda of 'Indo-German partnership in 21 st century' was adopted.
Regular Visits by leading politicians and high officials from Germany reflects the commitment of both the countries to take ties to a new high. Both the countries not only share economic interests but also various other political as well as common concerns such as the rule of law, tolerance and respect of human rights and their commitment for strengthening the multilateral institutions.
If we go back to past India was the first country, which ended the state of war with Germany after Second World War and gave diplomatic recognition to the federal republic. India also stood by its unification. India and Germany also share long held cultural ties since ancient. There is long and diverse history of cross-cultural relations, which has been reflected in the exchange of ideas in literature linguistics, religion, philosophy etc. through Hegel, Marx, Max Mueller, Nietzsche, Kalidas, Subhash Chandra Bose and Rabindranath tagore.
As far as economic relations are concerned Germany is India's largest trading partner in Europe and fifth largest customer and exporter to India. Trade volume between the two countries has increased to 10.5 billion EUR in 2006 from 2.7 billion EUR in 1990 since economic reforms in India.
In view of the huge potential of Indo-German co-operation in areas of telecom, engineering, environmental technology, chemicals, pharmaceuticals and food processing target of doubling bilateral trade to 20 billion euros by 2012 cannot be said to be a far cry.
Another strong point between their relations is their inherent manufacturing strength, which if leveraged fully can make both the countries next global manufacturing champion. This is to be highlighted that 80% of German investors in India are manufacturing firms that too world leaders.
In investment from Germany where India has recently seen decline and lags far behind China one can expect a reversed trend in coming times as German leadership assures of an upward graph as they are engineering a shift in China centric Asia policy.
An appreciable change in Indo-German relations is the reduction of differences on nuclear and security matters. Germany took a hard stand over nuclear tests by India and has always been critical of nuclear program of India but approach changed in 2000 due to the intensified contacts at higher level.
There has been considerable shift in the line of thinking as today it stands to support India's bid for nuclear energy if India maintains transparency and abides by the rules of IAEA and NSG guidelines as per the chancellor of Germany, Angela Merkel.
This becomes important in view of the fact that Germany is to chair NSG next year and would be crucial in getting the international co-operation. Germany today also acknowledges India's importance in relation to the security of region.
Angela Merkel has come to India to expand the business and political ties which is very much obvious by her long-range of issues she plans to discuss and reach agreements with India.
Her acceptance of the suggestion for criteria based on per capita emission at UN General Assembly, her desire to have collaborations in science and technology and education and her acknowledgement of India's strategic position in the region indicates a real shift in the approach of Germany to Asia which was till yet economic but now getting political and strategic. Now earlier policies and approach of Germany to Asia as well as India is changing and is in tune with Germany's ambition to play a global role and India's ambition to accelerate its economy.