Ludhiana bomb blast: One more blow to internal security of India
Ludhiana, Mon, 15 Oct 2007
NI Wire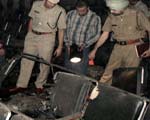 Oct 15: Bomb blast in Ludhiana multiplex
We were still struggling to cope with the bomb blast incident of Ajmer Sharif just two days ago from 'Id-ul-Fitr' that another blow came to the mind in the form of another bomb blast in Ludhiana multiplex which took the toll of six lives and injured thirty others on Sunday evening.
The bomb blast took place in Srinagar theatre on Samrala road in Ludhiana. People who came to the multiplex to make their weekend entertaining had a bitter experience and got horrified at the incident.
The blast is suspected to be a terrorist attack which took place at around 8: 30 in the evening. Victims are suspected to be mainly migrants who were watching a Bhojpuri film. The condition of more than 20 people is being said to be critical. Those injured have been admitted to CMC hospital.
Investigations are going on to discover the nature of explosives. This may be an act of any terrorist outfit whether Islamic fundamentalists or Sikh terrorist outfit called 'Babbar Khalsa International' or 'Khalistan Zindabad Force'. This is a major strike in Punjab after a long time and is a reason to worry.
Eyewitnesses claim that two explosions took place but police denied and said that one explosion took place.
Security at public places has been increased told Punjab police. Punjab Chief Minister Prakash Singh Badal has appealed people to be calm and said that anti national forces which are inimical to peace and communal harmony will not be allowed to succeed in their aim. Punjab has been put on alert during this festive season.
He also promised compensation to the relatives of those died in the incident and free medical treatment to those injured.
In view of the recent explosions at two places within a week the capital has already been put on alert. Police forces have been asked to be extra vigilant at public places especially at borders of the capital.