Patna Tourist Places
There are lots of tourist places in Patna, which is describes it greatness in the tourism sector. The ancient and glorious city Patna has many valuable gifts in its lap, which attract visitors and tourist. Many big guns and scholars have visited the sacred land and the essence of their footprints can be feels right now. Tourists and visitors frequently visit here and there are many attractions for them, which are a part of its culture and heritage of its golden past and history. Come and explore in the beautiful tourist spots of Patna Bihar; on your vacation trip to historic city.
Visit to Golghar of Patna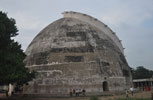 Golghar of Patna
The famous architecture of Patna, which was built in 1786 by captain John Garstin. Needless to say, Golghar is one of the most dominant structures in Patna, which has become a mask of the city. The round structure which was conceived as a state granary for the combating of devastating famine which struck region in 1770. The completely round shape and a height of 29 meters has still a tourist palace for Patna which enchant tourists, no matter its height has lost its fame in the modern tall buildings of the city.

View of river Ganga from Golghar Patna
Must to See the Mahatma Gandhi Setu of Patna
The Mahatma Gandhi Setu; One of the longest road bridges of the world is situated on Ganga River in Patna. The 5575 meter long Road Bridge connects Hajipur, North to Patna, South on River Ganga. This Mahatma Gandhi Setu a must to see places in Patna was one of the longest road bridges in the world for some time.
Trip to Sanjay Gandhi Jaivik Udyan of Patna
Now it is known as Zoological Garden or Patna Zoo is one of the largest zoos in South Asia. It has variety of spices and animals in which about 800 animals and 110 spices live here including tiger, leopard, crocodile, Himalayan black bear, giraffes and many more. It has also an aqurium, which has about 35 spices of fish and 32 snakes of rare kind.
Tour to Saheed Smarak of Patna
Saheed Smarak of Patna is the martyr's memorial of seven brave young men who sacrificed their lives during Quit India movement in August 1942. They were trying to hoist the national flag on secretariat building and now the smarak is situated outside the Secretariat building.
Must to see the Kumhrar of Patna
Kumhrar is ancient place of Patna where remains of ancient city of Patliputra is available. It is believed that the there was the 80 pillars hall of Mauryan dynasty was situated at that very place which marks the ancient capital of many leading king like Ajatshatru, Chandragupta and Ahsoka. During the excavation work more than 72 pillars have been traced out on various occasion.
Visit to Patna Museum: Built in 1917, it is the state museum, which has many archeological rare objects including coins, instruments, textiles, paintings etc. Patna Museum has many sculpture, Buddhist, relic of Gautam Budha and Stupa of Vaishali, which has historical importance, and enchant visitors. The world famous Didarganj Yakshi statue, which has its own historical importance and it was discovered in 1917, is one of the greatest heritage of the Patna museum.
Travel to Khuda Baksh Oriental Library of Patna: One of the famous libraries of the country, which has a distinguished collection of rare kind of scripts and paintings. Khuda Baksh Oriental Library situated on the famous Ashok Rajpath, it has collection of distinguished rare Arabic and Persian manuscripts. It is also famous for its collection of Rajput and Mughal paintings and unique an inch wide Quran.
Travel and Tourism Services: