India ready to roll on Aussie juggernaut in Twenty20 semifinal on Super Saturday
New Delhi, Sat, 22 Sep 2007
Mukesh Thapliyal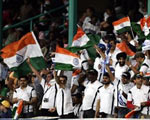 Sep 22: The men in blue are skying with confidence with their persistent good performance in the ongoing tournament. The mood in the camp is totally upbeat, as team India is ready to defy Aussie juggernaut, to move in to finals of the inaugural Twenty20 World Cup at the Kingsmead in Durban later tonight.
The momentum is with the Indian team and it is up to the young brigade that how they will be able to get past World Champions Australia. The Durban track will certainly offer something to fast bowlers and Australian seamers are must be ready to get past India batsmen.
However, the major advantage goes in India favour, as they have the familiarity and idea of Durban conditions very well. They have managed to acclimatise to the testing conditions thus far and hope to keep up the impetus. They had played last three of their matches here while the Aussies are playing for the first time in Durban in the whole tournament, but you can't take mighty Australians lightly as they are a thorough professional side, and can turn the match around at any point of time.
Indian team had few injury worries as Indian skipper Mahendra Singh Dhoni suffered a back strain during last match that forced him to hand over the gloves to Dinesh Kaarthick. However, a decision on Yuvraj Singh will be taken only on the match day. He had missed the game against the Proteas due to an elbow injury. Yuvraj is expected to be fit and to play in the crucial semifinal, and might come in place of either Kaarthick or Robin Uthappa. Both are likely to play, they'll have to clear fitness tests on Saturday morning.
Australian side is too troubled with the injury problems as they might go in this crucial encounter without regular skipper Ricky Ponting. All-rounder Shane Watson has been already ruled out of the Twenty20 World Cup as well as the forthcoming India tour due to hamstring injuries. But they still have some firepower in their arsenal. Players like Matthew Hayden, Adam Gilchrist and Andrew Symonds can single-handedly turn a match on its head.
The South African captain Graeme Smith too voiced in favour of India, "The youngsters are playing good, gutsy cricket. I think if they carry on playing the way they have, they have got a good chance".
Team India should be worried with the imposing form of the tournament's top-scorer Matthew Hayden and the highest wicket-taker Stuart Clark so far.
But Dhoni's young side will certainly not be bothered about the blemish of the past leaving the history behind, as they have never beaten Australia in the World Cup in the last twenty years, which tells us the story of India that has always struggled to beat Australia in World Cups in crucial encounters. This is the first time that India and Australia are facing each other in the semifinal of any big tournament.
"We don't fear anybody. We're here to play some good cricket. Win or lose, it all depends on how we play on the D-day. Obviously we are not just going to look at them as a World champions, we'll just perform as best as we can," said Irfan Pathan.
Well the bowlers have been dominating here. It has not been the same high scores as Johannesburg or Cape Town. So whoever bowls first will have a chance to make an instant impact on the game, and whoever bowls second will also see the ball darting around. So I think it's a different way of playing the game. Something we will need to get on top of, tomorrow," said Tim Nielsen, Australian coach on Friday.
It hasn't been all smooth sailing for Indian batsmen so far but in the last two matches they've delivered under pressure. All they have just to do is to keep the guns going. Yuvraj Singh and the openers were spectacular against England, while Rohit Sharma showed maturity in testing conditions against South Africa.
RP Singh has surely been leading the Indian bowling attack with Harbhajan Singh and Irfan Pathan backing him up well. The others have to follow the same, as they have been erratic, there were 11 wides bowled in the last match, of which Sreesanth contributed six. That's the department where the bowlers will have to do better.
The cricket fans from all over the World will certainly look forward to a grand clash between youth and experience, as the slam-bang version of the tournament moves towards its high point. Earlier today another sub-continent team Pakistan will take on New Zealand in the first semifinal at Cape Town. Everybody across the World would be preying and hoping to see India-Pakistan final, which is quite a possibility, as the way both teams had performed so far in the tournament.

India (Squad): Mahendra Singh Dhoni (captain), Yuvraj Singh, Virender Sehwag, Harbhajan Singh, Ajit Agarkar, Dinesh Karthik, Gautam Gambhir, Robin Uthappa, Joginder Sharma, Yusuf Pathan, Piyush Chawla, Sreesanth, Irfan Pathan, RP Singh, Rohit Sharma.
Australia (Squad): Adam Gilchrist (captain), Ricky Ponting, Nathan Bracken, Stuart Clark, Michael Clarke, Brad Haddin, Matthew Hayden, Brad Hodge, Brad Hogg, Michael Hussey, Mitchell Johnson, Brett Lee, Andrew Symonds, Shaun Tait, Shane Watson.