Google tops top 100-brand list
New Delhi, Sat, 02 May 2009
NI Wire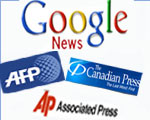 The Internet giant 'Google' has topped the list of most valuable brands of the world and reached to a historical mark in the brand world by breaching USD 100-billion dollar mark. It has become the first company in the world to cross the USD 100-billion mark.
Among the top 100-list of world's most valuable brands, Google has surpassed all including former no.1 brand Microsoft Corporation ltd, that has reigned the list for long time.
The search engine supremacy and AdSense strategy has made Google the no.1 brand and a $100-billion company.
Despite the ongoing global recession, Google has achieved this mark that is quite appreciable, said a leading research firm Millward Brown Optimor that has published the list.
"In the current environment, where the value of many businesses has fallen, brand has become even more important because it can help to sustain companies in tough times," Joanna Seddon, the Chief Executive Officer of Millward Brown Optimor said.
While on brand value accuracy, Seddon says, "The dollar value of each brand in the ranking is the sum of all future earnings that brand is forecast to generate, discounted to a present day value."
According to Millward Brown, the total value of the top 100 most valuable global brands has increased by 2% to USD 1.95 trillion and 85 companies have been able to sustain in top-100 brand list.
The other firms that have secured the top positions are: Microsoft ($76.2 billion), Coca-Cola ($67.6 billion), IBM ($66.6 billion), McDonalds ($66.5 billion), Apple ($63.1 billion), China Mobile ($61.2 billion), GE ($59.79 billion), Vodafone ($53.7 billion), and Marlboro at No. 10, with brand value $49.4 billion.
LATEST IMAGES

MORE...
Social bookmark this page
Post comments: