Mastermind of massacre of Hindi-speaking people in Assam trapped
New Delhi, Tue, 18 Sep 2007
NI Wire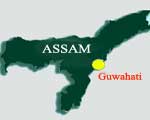 Sep 18: Top ULFA commander of '28th battalion', Prabal Neog has been arrested by the police who played significant role in masterminding the massacre of people migrated from the Hindi speaking areas and the bomb explosions on oil and gas installations in Assam.
This is to be known that ULFA mainly started targeting the migrants in upper Assam especially in Dibrugarh, Tinsukia and Sivasagar districts from the starting of this year at the facilitation of Prabal Neog who took the commands of the battalion after its chief Mrinal Hazarika was arrested last year. In the attacks almost 150 migrant people mainly labourers died.
He was captured while travelling to Itanagar from Tezpur where he came to take his wife and infant son who stayed in a hotel since last night. The police already had information that he and his wife had come to Tezpur from Karbi Anglong district. Police told that they had the information for the last week and are tracing him for the whole week. As he checked out of the hotel with his wife and son he was caught just at a distance of two kilometres from the hotel at a check point.
The most wanted ULFA militant while got arrested pleaded to shoot himself but he refused to surrender.
Prabal belongs to the Makum Tehsil of Tinsukia districts and joined ULFA in 1991. Arrest of Prabal is being considered a big catch as this will weaken 28th battalion further as several of his comrades were already shot dead by security forces in encounters. "Neog's arrest would be a great blow to ULFA's most powerful combat unit most of whose leaders are now either in prison or took shelter in Bangladesh" said the intelligence chief Khagen Sarma.
"Neog's detention could paralyse his battalion which is ULFA's most potent strike force" added intelligence chief. He leads almost four units of the battalion which amount to around 400 insurgents in the area.