Liberhan commission gets another extension
New Delhi, Sat, 01 Sep 2007
NI Wire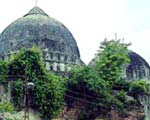 Sep 01: An inquiry into the demolition of Babri Masjid at Ayodhya since last 15 years has cost Rs 717.66 Lakh.
The one man commission headed by Justice Mohan Singh Liberhan, is inquiring into the circumstances that led to Babri Masjid demolition on 6th December 1992. It was constituted on 16th December 1992 and again got a two month extension that is its 41st extension in the past 15 years.
Earlier Minister of State for home Sriprakash Jaiswal replied to a written query that the term of this commission won't be extended and the commission report will be submitted in its present tenure which expired on Aug 31.
The commission has recorded the statement of various politicians such as Lal Krishna Advani, Uma Bharti, Vinay Katiyar, Murli Manohar Joshi, many Vishwa Hindu Parishad leaders, other bureaucrats and top police officials of Uttar Pradesh
Advani has been questioned several times as he led the famous Rath Yatra, and alleged to have mobilizes KarSevaks. He is accused of giving speeches which could have incited KarSevaks to demolish Babri Masjid.
The then Prime Minister P.V Narshimha Rao has been also questioned regarding his inability to take control of the riots followed by demolition, which marks the killing of about 3000 Muslims and loss of properties.
Gauri Advani, daughter in–law of L.K. Advani, who filed an application before Liberhan Commission had blamed L.K Advani and Vinay Katiyar to have hatched the conspiracy to demolish Babri Masjid. She mentioned that Advani and his family do not follow Hindu religion and this all has been done to get Hindu vote and come to power at centre.
The 900 pages report which will be tabled in October is supposed to create stir in political galleries.
LATEST IMAGES

MORE...
Social bookmark this page
Post comments: