Muslim nations agree to develop a common approach to water
New Delhi, Sat, 21 Mar 2009
Nava Thakuria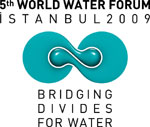 The 5th World Water Forum, presently going on in Istanbul, Turkey has witnessed a number important sessions in the last few days. The fifth day of the weeklong summit also hosted a meeting of the Muslim countries to discuss the state of water sustainability in their world.
Some horrible facts that over 1.1 billion people had no access to water, 2.6 billion people experienced sanitation problems, and 3,900 babies died daily in Muslim countries because of lack of sufficient water were also highlighted in the meet, stated in a statement issued from the venue of the summit.
Iranian Minister Seyed Perviz Fattah used the opportunity to offer to hold the next World Water Forum, three years from now, in Iran, while Egyptian Representative Mahmud Abu-Zeid underlined the importance of periodic regional programs, which would not only share valuable information on water issues, but develop new and advanced technologies, especially in water collecting. Fouad Ben Eliezer, the Minister of Iraq, claimed that because their daily intake from the rivers of Tigres and Euphrates were reduced to 40 million m3 from the previous 60 million m3, the Iraqi people frequently faced water shortage.
The Palestinian Minister expressed his own concerns, saying that despite his country's Transboundary Water Agreement, the "Philistines" (a colloquial term for people who occupy the southern coast of Canaan) had not been receiving any water from Jordan since 1967. He urged them to remedy the situation. The minister from Algeria highlighted his country's 30 new dams in 10 years and plans for 11 more until 2025.
The Secretary General of the Organisation for Informatics Cooperation and Development (OICD), Prof. Dr. Ekmeleddin Ýhsanoðlu, said that due to the ongoing difficulties including regional conflicts, the global financial crisis, climate change and limited access to drinking water, projects intended to meet the needs of their citizens were hindered to a great extent.
"For the first time in Forum history, the Istanbul meet blends together the three levels of political power, national governments, local authorities and parliaments, to facilitate a common understanding of objectives and solutions. This was demonstrated through the Ministerial Statement for national governments, the Istanbul Water Consensus for local authorities, and the Parliamentarian Helpdesk, an information system designed to log and search all water legislation," informed Lauren Kamm through an e-mail.
In the three-day Ministerial Conference 60 ministers, 9 deputy ministers and 8 vice-ministers participated. The Ministerial Declaration is scheduled to be finalized today. The Declaration will recognize the specific challenges facing different parts of the world, especially Africa, in meeting the Millennium Development Goals and attaining an acceptable level of water security for socio-economic development.
LATEST IMAGES

MORE...
Social bookmark this page
Post comments: