India, China to resolve trade nuisances
New Delhi, Fri, 20 Mar 2009
NI Wire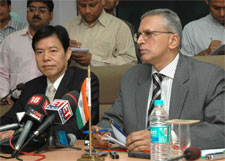 To facilitate trade ties with India, resolving all nuisances, Chinese Vice-Minister of Commerce Zhong Shan held a meeting with his Indian counterpart G K Pillai on Thursday in New Delhi.
Mr. Shan is now in India to talk on different bilateral trade issues including India's trade ban on import of certain Chinese goods, especially toys. On January this year, India had imposed a ban on Chinese toys addressing Indian children's health concern.
However, On March 02, the ban was relaxed partially and imports of some Chinese toys were allowed that meet global safety standards.
China had taken the issue to World Trade Organisation by accusing India of breaching WTO principles, which states that goods from WTO member countries should be treated alike. However, with the visit of the Chinese minister there is a better option in resolving all outstanding issues mutually.
In a positive response, India said that New Delhi had held talks with Beijing on the issue and expressed hope that this matter would be resolved in the recent high-level meeting.
After the Thursday meeting China does not rule out litigation at the WTO, but would try to resolve the matter through bilateral negotiations. Both the nations have decided to set up a joint panel to remove irritants in trade matters.
Interacting to media, Indian commerce secretary Pillai said, "Given the immense potential the two countries have, in both production and the consumption capabilities, we need to work more closely to remove all the minor irritants that creep into our economic and trade relation."
'The two countries could gain a lot by providing faster market access to pharmaceuticals and drugs,' he added.
Moreover, Pillai requested to his Chinese counterparts to grant market access to 14 fruits and vegetable at the earliest because it was pending since long.
According to an official release, both sides felt the need of increasing bilateral investments between the two countries primarily on petrochemicals, steel, healthcare, IT, automobiles, biotechnology, renewable energy and low-carbon technologies sectors.
The major items, which India exports to China are: ores, cotton yarn & fabric, organic & inorganic chemicals, precious stones & metals and machinery while electrical machinery, organic chemicals, Iron & steel, fertilizers and mineral fuel are basically imported from China.
LATEST IMAGES

MORE...
Social bookmark this page
Post comments: