Hyderabad blasts indicate a gross intelligence failure
New Delhi, Mon, 27 Aug 2007
Deepak Kumar Mohanty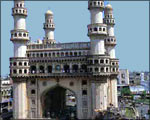 Aug 27: The Saturday's twin bomb blast in Hyderabad that left over 40 people dead can be seen as a total intelligence failure as the Home Minister Shivraj Patil later admitted that government had prior information of any such attack but didn't have any clue to the time and place. This also exposes the security condition of the city after the Mecca Masjid blast in the month of May that took lives of at least 13 people.
Though the Chief Minister Y S Rajasekhara Reddy in his press address pointed out any link with the past blast but it is not understandable why our intelligence agency is taking so much time in reaching a conclusion. The investigating team has only confirmed the links of some Islamic terrorist organisation based in Bangladesh and Pakistan but not a single organisation has taken any responsibility of the attack.
The manner our Home Minister addressed media persons with smile on his face also indicates his carelessness to the whole matter. What government is trying to do is only providing some kind of relief but has failed to understand the pain of those families who have lost their dear ones.
It is not only in Hyderabad but also in all states that none is safe from such terrorist activities. Setting up special task forces for investigation just in the aftermath of the attack also questions the competence our present investigation agency. It is not to blame the ruling political party or the opposition as none of them has really understand the exact need of the hour instead our political parties held bandh in protest of such attack. All political parties should join hands together instead blaming each other and plan out some mechanism to maintain law and order.
Opposition BJP is blaming ruling coalition in centre for adopting a soft approach to terrorism and advocates a stringent law like POTA. But again does a terrorist or a suicide bomber really care about such laws. We as a whole first need to strengthen our internal security and also our Hindu-Muslim unity. It will not be always right to blame Muslim organisation as in every religion there is fundamentalism.
The twin blast is a gross negligence of our Intelligence Bureau (IB) and also police. In spite of investigating further after receiving inputs from IB the police took it lightly that resulted this bloodshed. In fact this shows a lack of coordination of police and intelligence agency. As far as the present security condition is concerned only our high profile political leaders are safe from such attack and hence they have least worries about common man.
LATEST IMAGES

MORE...
Social bookmark this page
Post comments:

Ahmed Ali
August 30, 2007 at 12:00 AM

Rinky Gupta
August 28, 2007 at 12:00 AM

R.KRISHNAMURTHY
August 27, 2007 at 12:00 AM