India defeats Bangladesh in the fourth match of Nehru Cup
New Delhi, Tue, 21 Aug 2007
NI Wire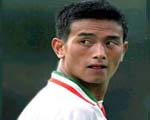 Aug 21: In an exciting football match between India and Bangladesh, India in early minutes of the match put pressure on her neighbour by hitting the ball straight into the net foiling the defence of Biplab Bhattachargee, goalkeeper of Bangladesh. It was Baichung Bhutia who took this lead for India.
This is second successive victory for India as in the last match India left no face for Cambodia crushing it with 6 goals on her side and letting them no entry around their own goal post.
In the first half Bangladesh was on its defence and India constantly on attack. The goal by the Indian skipper was the only goal in the whole match as Bangladesh left its defensive strategy in the second half and had constant attack on India though unable to translate into goals.
Steven Dias passed the ball to Bhutia who lost not a single minute in turning it a scoring point for India. Indian goal keeper, Subrata Paul did equally appreciating job by not letting the opponents breach the defence and failed two attempts of opposite side. He was also announced as the player of the match.
On the other hand India too could not translate various chances into goals which it got in the second half of the match, though there was much more coordination among the players than in the first half. There could have been more goals to India's credit, had there been coordination among Bhutia and Chetri who missed the chances due to non-passing the ball.
Still Sunil Chetri has been a constant nuisance to Bangladesh defence which was dispersed by his constant attacks.
Even Bangladesh was not silent and made counter attacks when Abdul Hussain, planned several counter-attacks on Indian side. Hussain took possession of the ball near the goal post but not successful to score for his country. Immediately after this failed attempt came the effort by Ameli which could have changed the face of scoreboard but could not due to the strong defence line of India.
They could not penetrate Indian quartet of defence of Manju, Gawli, Mondal and Sukumar singh.

The match was so exciting that full spirit could be seen among the audience till the last minute of the game. Not for a moment anybody felt out of the field.
This victory has laid path for India to the final of the tournament. Even the coach Bob Houghten has expressed happiness over the performance of the team in the last two matches. In her next match India would face Syria.
LATEST IMAGES

MORE...
Social bookmark this page
Post comments: