Abu Salem: Under Norco-analysis Test
New Delhi, Fri, 17 Aug 2007
NI Wire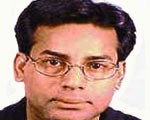 Aug 17: In a transcript aired on a private news channel Abu Salem was seen coughing out the names of Bollywood bigwig under the influence of drug. The transcript is said to be taken in December 2005.
Abu Salem confessed that Subhash Ghai paid extortion money of 20-25 lakh to Dawood Ibrahim's gang. He also took the name of Rakesh Roshan and JP Dutta but said that they even did not pay a dime.
Under the influence of the drug, he took the name of Anees, Chota Shakeel and Dawood Ibrahim. He fears losing his life to the Dawood member for they are angry that he gave information about serial blast. Anees use to force him to take extortion call but only paid 5%-10%.
He claims Manisha Koirala to have ordered the killing of Mukesh Duggal and Chota Rajan was responsible for his death. Anees (Dawood's brother) was behind the killing of Gulshan Kumar the kingpin of music industry, and Om Prakash Kukreja.
On being asked whether he know somebody from Police, he said of knowing the encounter specialist Pradeep Sharma who revealed that he has killed many Abu Salem's men in encounters
Abu Salem is an accused in 1993 Mumbai serial blast and wanted in several cases of extortion, kidnapping and contract killing. He hails from Ajamgarh district of Uttar Pradesh. He was extradited to India after three years extradition battle with Portugal. In the treaty with Portugal Abu Salem cannot be executed or given death penalty. Abu Salem and Monica Bedi were brought to India in 2004.
In a Narco-analysis Test he answered a number of question related to crime and murder. Narco Test is also called as 'Truth Serum Test' in which the person is made semiconscious by administering drugs like Sodium Pentothal or Sodium Amytal. Under the influence of these drugs it becomes difficult for the person to lie. Proper care is taken and the dose depends on the person's age, sex and health. Over dose may lead to person's death.
Such test have no legal validity, it can only be used to assist police in there investigations.
null
null
LATEST IMAGES
null
null
MORE...
Social bookmark this page
Post comments: