Goenka Education City partners with Lancaster University
New Delhi, Fri, 20 Feb 2009
NI Wire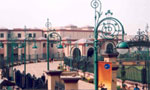 The GD Goenka Educational Trust has entered into a partnership with Lancaster University to deliver higher education qualifications at its Education City in India.
Stretch in an area of 60-acre, the Education City, part of the new GD Goenka World Institute of Higher Education, Goenka previously offered courses from Nursery up to International Baccalaureate level, and with Lancaster's involvement from August 2009 will run selected undergraduate and postgraduate programmes at the World Institute.
BA Economics, BA Business Economics, BBA Business Studies and BSc Computing and Information Systems are some of the selected undergraduate programmes will be made available. A two-year Global MBA will also begin in 2010.
Applications for Masters degrees' in Management, Management and Law, and Money, Banking and Finance are also being taken, while a new two-year course leading to a Postgraduate Diploma in Business Management is offered.
Speaking about the partnership, GD Goenka Chairman A.K. Goenka said his team had decided to work with Lancaster "due to its reputation and the ranking it commands in comparison to other British universities."
"The quality of Lancaster's degree programmes, their methods of delivery, and their proactive approach to curriculum design are some of the essential reasons for this collaboration. We have been impressed with the administrative and teaching staff of the University and their action-oriented approach to quality systems have been the driving force for this partnership with Lancaster," he added.
Mr Goenka further explained that Lancaster would help GD Goenka "become one of the leading institutions in the field of Higher Education in Asia over the next 10 years."
"As we intend to compete with the best, we decided to partner with the best University in Higher Education. We also believe that Lancaster has a long history of delivering high quality degree programmes and their systems and processes have been tested to give the best results both for students and the community at large. Thus, Lancaster University brings to the GD Goenka World Institute systems, processes and programmes that are in sync with the premium Goenka Brand in India."
Initially Lancaster University will contribute 70% of the teaching, training GD Goenka staff in the process. "This is a really exciting development that shows how determined the University is to develop collaborations with institutions all over the world," said Professor Steve Bradley, Associate Dean for Postgraduate Programmes at Lancaster University Management School (LUMS). "We are delighted to be able to support GD Goenka in their forward thinking."
LATEST IMAGES

MORE...
Social bookmark this page
Post comments:

Hardeep Singh Randhawa
July 21, 2010 at 12:00 AM

nishant
July 14, 2009 at 12:00 AM

samander singh
July 13, 2009 at 12:00 AM

NAVNEET
July 5, 2009 at 12:00 AM

Professor B. B. Mohanty
July 1, 2009 at 12:00 AM

Monika Kapoor
April 22, 2009 at 12:00 AM

Professor B. B. Mohanty
March 25, 2009 at 12:00 AM