CHAK DE INDIA'?¶..kuch kariye!!!!
New Delhi, Mon, 13 Aug 2007
Binita Tiwari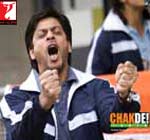 Aug 13: Chak De India – an unusual storyline and different movie stuff in YashRaj Banner directed by Shimit Amin.
'Kuch Kariye' You Go Girl…the message elevates ones belief in oneself. In this era where regionalism has become way of life, it gives a message to rise above regionalism and get united as Indian.
Shahrukh Khan in the attire of Kabir Khan has spelt a different magic unlike his other movies. Kabir Khan the captain of Indian Hockey Team was disgraced just because he shook hand with the opponent winner team. He suffered seven year to wash off his disgrace and agony.
The Women's Hockey team, which has player from all over India showed up the real picture of the player who play and think of their state never as team India. As a coach of Women's hockey team he could unite them as 'Team India'
This is a story of every household of India, which has a Vidhya, Preeti, Aliya, Mary, and Komal. The story of their journey from all the odds of life, which every women faces in her life. .
This is a message to all Indians to unite. This is a message to all women to stand up and say no….and carve their own niche.
May be this could teach our team in various sports to think as 'Team India' not as a representative of their state.
May this ignite the fire in the belly of various sport teams which are not doing well…specially the National Sport of India – HOCKEY.
In theatre u can feel the crowd applauding..When there is winning moment for team India ….as reel picture has become the real picture.
Watch it for it is different and elevating.
LATEST IMAGES

MORE...
Social bookmark this page
Post comments:

Asif
October 2, 2007 at 12:00 AM

sandeep
August 18, 2007 at 12:00 AM

urmil tandon
August 14, 2007 at 12:00 AM

Surya
August 14, 2007 at 12:00 AM

Shakeel Ahmad
August 13, 2007 at 12:00 AM