World watches as two Koreans confirm of the summit
New Delhi, Wed, 08 Aug 2007
NI Wire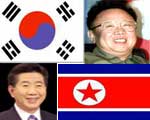 Aug 08: International community is hailing the announcement of the second ever historic summit of North and South Korea.
President Roh Mu Hyun of South Korea and his counterpart Kim Jong Il of North Korea will hold their talk in Pyongyang from 28 th-30 th of this month.
The South Korean president's very unpopular term is going to end and this is seen as a last bid to win the confidence of people. The opposition party Grand National Party (GNP) opposed this summit pointing the in appropriation of time.GNP is known to have a tougher stand towards North Korea.
This summit is welcomed by international community with a hope that it will bring peace and security in the entire peninsula.
The two Korean nation has come to an agreement to finalise an agenda during there preparatory meet in the border city of Keosang where they jointly share an industrial park.
This summit is seen as cooperation and increasing ties with the outside world. Last year in a major event North Korea shut down Yongbyon nuclear reactor as disarmament of nuclear programme.
The two countries which have yet to reach a formal agreement since 1950-53 Korean War ended. The first summit between the two countries took place in 2000 when Mr.Kim met Kim dae jong the then South Korean president.
US, Japan and china are hopeful of making this meet a successful event which will bring economic boost at regional level.
LATEST IMAGES

MORE...
Social bookmark this page
Post comments: