Imraan and Genelia land on Aamir's blog
New Delhi, Thu, 10 Jul 2008
Shivani Gupta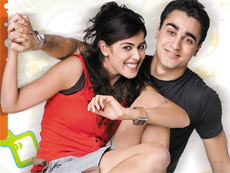 It's time to blog now pals... The plethora of success that Jaane Tu... has brought to the crew of the film has brought the actors Imraan and Genelia on the forefront of Aamir's blog where they are publicly casting a vote of thanks to uncle Aamir for showering all his worth upon the onscreen duo.
The recent blog of Aamir posted after their return from Nagpur contains the posts of Genelia and Imraan. Aamir acted a good producer who took his crew to a pleasure trip after the film's blockbuster opening. He mentions in his blog the love and warmth they received there from their fans.
Genelia begins her post with the mention of thanks and it seemed that throughout the post she continued to elaborate the same. In between her awe and overwhelming pleasures, she mentioned that the character of Aditi had grown into the people and that's the biggest reward for her. She paid the tribute to Aamir while writing that he was the one whose belief in her made her believe in herself.
She further expressed her proud to be a part of the production house. Not to be forgotten, Aamir said in one of his interviews that Genelia had a fresh outlook that reminded him of Juhi Chawla in her teens. Genelia seems to be on the top of the world post release Jaane Tu... and is in a party mood for some time now.
Imraan's post was quite a bit mature than his age. The new chocolaty man-on-wings has a real inhouse of vitality. His acting in the movie hazed his debut through the film. The audience was amazed by the superb acting of the newcomer who projected himself so confident on screen.
His post, likewise contained the stuff not expected from a newcomer. In fact, his post was a kind of well-written speech addressed to all his and Aamir's fans. As a responsible actor, he thanked Abbas for writing a beautiful story, Mansoor mamu for always being ready for help, his friends and co-actors. He didn't forget to thank Lobo, Steive and all the technicians who worked behind the scenes. Lastly and most importantly, he thanked his Aamir mamu.
Imraan went on to construct bridges of appreciation and obligations to Aamir. In a fascinating manner, he wrote that Aamir never gave him any tips for acting. 'He never sat me down and said "Come nephew, I shall give you wisdom".' He mentioned a list of virtues that uncle Aamir has bestowed in him.
The uncensored posts by these actors in Aamir's blog did not reveal much of the 'behind the back' story as was expected from them but they surely would work as an adherent in cementing the bond between Aamir's fans and The Khaans.
LATEST IMAGES

MORE...
Social bookmark this page
Post comments:

Manonita
July 19, 2008 at 12:00 AM

mirza
July 12, 2008 at 12:00 AM

Vaibhav Deshpande
July 10, 2008 at 12:00 AM

pankaj
July 10, 2008 at 12:00 AM