Not a champion anymore
New Delhi, Sat, 03 Jan 2009
M Shamsur Rabb Khan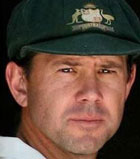 Nothing could be as worse for the Australian cricket team in recent times than two defeats in a row. And that too on its home soil: first, at Perth, where South Africa beat Australia by 6 wickets in the current South Africa-Australia series, and second at Melbourne by 9 wickets. In years, I have never seen Australian so much dominated and outclassed by opponents. And the worst part is their game planning, and bit of credit goes to Ricky Ponting's poor captaincy as well. However, the weakest, as for sure everyone would agree, is the bowling for which the Aussies have always been scared of. With Lee not in rhythm, the bowling seems as ordinary as any Ranji side in India except for Mitchell Johnson. You can imagine Lee bowling 71 overs in two Test matches and took just one wicket! This Australian side does not seem to be a champion team.
After crunching defeats at Mohali and against Dhoni-led Team India Nagpur and now in two back-to-back home Tests against South Africa, Aussies are now the focus of criticism from all quarters. The credit goes to India that began the Australian dominance, which is being continued by Graeme Smith's brilliant South African side. The strange part is that at both – Perth and Melbourne –Australian had lead in their first innings; in the first Test at WACA, Perth, South Africa posted only 281 against the Aussies' first innings total of 375. But they bowled out the Australian on 319 in the second innings and then went on to score 414 for the loss of 4 wickets, with Smith scoring a patient 108 and De Villiers 106 not out.
At Melbourne, with a brilliant century by Ponting, the Aussies had an upper hand; it scored 394 and managed to get 8 South African wickets with score at 251, a deficit of 143, and when it seemed the Australians would wrap up the innings in quick time, there came a long, frustrating partnership of 180 runs for the ninth wicket between new comer Duminy, who scored 166 and Steyn, the fast bowler, who contributed 76 valuable runs. In the process, the South African, who were on the verge of being short of runs, went on to take the 65 runs lead. But then it was expected that Australian would put up some fight in the second innings. While Hayden struggled to score only 23, Hussey, Clarke and Symonds failed to save the match for the Aussies. Even Ponting's belligerent 99 did not help the team, and they were all out on 247, which mean South Africa needed only 183 to post the second victory in a row that they did convincingly.
There is no doubt that among leading cricket playing countries Australian has the weakest bowling attack at the moment. After retirement of Glenn McGrath and Shane Warne, Australians bowling attack seems very ineffective and inefficient. Pace bowlers are struggling to put any sort of danger to the batsman, and there is no spin bowler in the side. Spin legend Shane Warne advises Australian team not to feel disgraced losing to teams like India and South Africa as they played better cricket in the Test series last year. However, he questioned the Australian approach and attitude of containment instead of being aggressive. While Ponting seemed very much pensive in both the Test, Warne considers him as a good cricket brain. With 3rd Test match starting tomorrow, let us hope for a better contest since the battered Aussies would like to restore some damage that has already been inflicted.