Support of National Conference further boost up UPA-Left stand in PP
New Delhi, Wed, 18 Jul 2007
NI Wire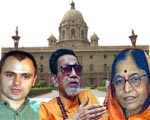 July 18: The Jammu Kashmir National Conference party who is currently in opposition has decided to support UPA-Left candidate Pratibha Patil in the Presidential election going to held tomorrow.
Yesterday in the Srinagar working committee meeting, party president Omar Abdullah formally announced his party's readiness to support Patil as she is being supported by all secular parties.
Though few days back it was on the high that National Conference is going to join the newly formed eight-party outfit UNPA, they opted to support UPA-Left candidate. However, the UNPA alliance has already declared not to cast their vote in the Presidential poll.
The BJP-NDA, who has its candidate Bhairon Singh Shekhawat has strongly criticized UNPA's stand and had appealed to the Election Commissioner. But the EC made it clear that it is the legislature's constitutional right whether to vote or not. "Also it is the individual right to vote for the candidate of their choice irrespective of his/her party's direction, EC said this in a statement yesterday.
During Prime Minister Man Mohan Singh's last week visit to Jammu the opposition party was fully active in all meetings and conference attended by Mr. Singh. Even though NC is the largest opposition party in the state but it some how showed a friendly relation with the congress led government in the state. Also as an opposition the NC has failed to address several issues that the ruling party has failed to execute.
Well whatever the reason but with the support of parties like, Bahujan Samaj Party (BSP), Shiv Sena and now National Conference, the UPA-Left candidate Pratibha Patil seems far ahead than Mr. Shekhawat.
Though it appears to be a clean sweep for Pratibha Patil but parties like Trinamool Congress (TM), Janta Dal Secular, TRS have yet to decide their stand.