Monika Bedi released in fake pass-port case
New Delhi, Mon, 16 Jul 2007
NI Wire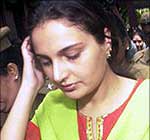 July 16: Bollywood actress and alleged companion of underworld Don Abu Salem, Monika Bedi has been acquitted in a case of carrying a forged pass-port by Bhopal court today.
A case was registered against her in November 2001 by Madhya Pradesh police, crime branch for having a passport issued on the basis of forged documents in the name of Fauzia. Case was filed against Salem, his wife and Monica for securing a passport by using fake names.
Some days ago accused wrote a letter to the Supreme Court requesting for the transfer of her case from Bhopal to Mumbai or delhi claiming that she will not get a fair trial in Bhopal. Responding to her request of shifting the trail from Bhopal to Delhi or Mumbai the Supreme Court issued a notice to Madhya Pradesh government on July 10 and sought a response
Bedi complained that from the beginning of the case she is not getting fair trail due to the haste of prosecution to conclude the case within two months at the direction of the Supreme Court. She also blamed the prosecution of manipulating the evidence against her and not being tried according to the terms of extradition from Portugal.
As the judgment was to be announced today by chief judicial magistrate's court on her case she was reported to be tensed for a couple of days by the prison authorities.
Monika also performed yoga and taught the fellow prisoners acting and dancing. Monika was awarded a five year sentence in September 2006 by special CBI court which was later cut by Andhra Pradesh high court to three years and granted her bail.
Two days ago she also complained of hidden cameras fitted in her cell to pursue her activities in jail compartment. But the jail superintendent Prashant Somkunwar rejected the report as false and baseless.
LATEST IMAGES

MORE...
Social bookmark this page
Post comments: