Bangladesh police arrested Awami League leader Sheikh Hasina
New Delhi, Mon, 16 Jul 2007
NI Wire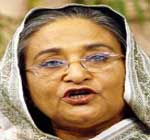 July 16: Police in Bangladesh arrested former Bangladeshi Prime Minister and leader of the Awami League, Sheikh Hasina from her residence. Presently the leader is facing several charges of corruption and after conducting a raid on her home police detained and sent her to court. The development occurred early this morning.
The Awami League leader is also facing three extortion cases and murder of four people died in a rally organized by her party in 2006. The military backed care taker government of Bangladesh has lunched a mission to eradicate corruption from the country and hence in a constant effort it has so far arrested more than 100 politicians and high officials.
The present military administration had banned her entry to the country when she was flying back from London but later allowed her entry.
Reportedly thousands of police officers were present in and outside her home while the raid was taking place and soon after she was sent to prison and later to the Dhaka Metropolitan Magistrate court.
The military backed emergency government is planning to conduct election at the end of 2008 and consequently doing all necessary to bring normalcy in the country baring politicians from doing any adverse activity.
Earlier on Sunday, the Awami League leader had criticized the military government and intelligence for misusing their power. This believed to be the prime reason for this latest development but it may also relate to the murder investigation relate to the 2006 political violence.
The Awami leader is the daughter of Sheikh Mujibur Rahman, the first president of Bangladesh. She became Prime Minister of Bangladesh from 1996 to 2001. Early January this year she alleged the caretaker government being bias in conducting a free and fare election and hence boycott the election. The caretaker government later imposed emergency in the country and postponed the election to somewhere in 2008.