West Bengal Panchayat Poll: a lesson to all
New Delhi, Fri, 23 May 2008
Vikash Ranjan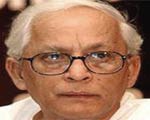 The West Bengal Panchayat polls has come out with result, most of which has gone against the ruling CPI-M government led by Buddhadeb Bhattacharjee. With this time has come for the veteran Marxist to introspect the years of his regime, before it goes too late.
The people of Singur and Nandigram, where the ruling CPI-M resorted to forcible agricultural land acquisition for establishing industries followed by the blood bath struggle by the rural natives has voted Buddhadeb out from there.
The verdict of the people (the indirect ruler of the democratic form of government) is crystal clear that any policy of the government against the rural people and more in favour of big industrialists at the cost of their livelihood would not be tolerated.
Mamata Banerjee's Trinamool Congress' win in panchayat polls of Singur and Nandigram signals that people want change of regime in the state.
The Trinamool Congress has registered victory on all four seats in Nandigram and all three in Singur. The opposition even managed to wrest the entire East Midnapore Zila Parishad from the Left Front and also inflicted incalculable losses on the CPM in its fortresses of Haldia and Khejuri.
The cracks are evident in the Red fortification and Buddhadeb may now have to face flak from his own party members. The Chief Minister now be ready to take responsibility for the defeat of his Party and the Left Front.
On the other hand the result of Panchayat polls has fetched some lessons for the fractured Opposition to unite and fought together against the ruling government.
The Trinamool Congress, which was very against any pre-poll alliance with the Congress considering the party's weak base there, is now has nodded for the alliance where the TC did not gain majority. Moreover, the improved performance of Congress in the rural polls has also contributed Mamata Banerjee to have change of hearts.
The seeds have been sown and now both-TC and Congress would try to reap the harvest in ousting the Left Front government in West Bengal in the next Assembly elections.
Singur and Nandigram also have infused confidence into Mamata Banerjee to lay frontal attack on the ruling government by raising the cause of the native people. The TC Chief has already beguiled by saying that the 400 acres forcibly acquired by the government for setting up small car plant will have to return to the farmers.
Buddhadeb still has time to judge his fault, which antagonised the people against him and self introspect his anti-democratic policy and oppression of peasants. Industrialisation is good for the welfare and development of the state and the country, but it demands proper attention in implementing such policies, which must not be permitted at the cost of livelihood of the rural folk.