Ghatothkach, the new animated avatar
Mumbai, Fri, 16 May 2008
NI Wire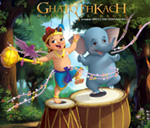 Ghatothkach is the new hero who has become the cynosure of all eyes through the soon to be release animation film Ghatothkach - Master of Magic.
The son of mythological figure Bhima and Hidimbi, Ghatothkach too belong to the great epic of Mahabharata. The film has already made its presence felt which is slated to be screened in Cannes Film Festival in France.
The animation is directed by none other than the legendary Singeetam Srinivasa Rao, who has distinction of making internationally acclaimed films like Pushpak, Appu Raja and Little John.
The hundred minute long movie spins around the life of Ghatothkach who is born in jungle with some inherent magic power. The movie zeroed in on his life which has a blend of action, fantasy, comedy and is sure to give new high to the children.
Shemaroo Entertainment and Sun Animatics, Hyderabad, has produced the film, significantly, the film's creative inning is being created by the best in animations from around the world.
Reportedly, the film has been made in both 2D and 3D and will have no language barriers as it will be released in almost seven languages including English, Hindi, Tamil, Telugu, Kannada, Malayalam and Bengali on May 23.
Even before its inaugural journey in Cannes the film hero Ghatothkach has made it to the list of environmentalist by becoming the brand ambassador of people for Ethical Treatment to Animals (PETA) for its Save Elephant campaign. Ghatothkach friend Gajju is an elephant and the members of PETA thinks that it will create awareness among people regarding the natural habitat of elephant and a need to protect this animal.
LATEST IMAGES

MORE...
Social bookmark this page
Post comments: