Pakistan coalition on verge of collapse
New Delhi, Mon, 12 May 2008
NI Wire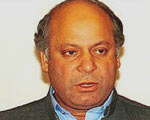 The way-long difference between the present coalition partner Pakistan Peoples' Party and Pakistan Muslim League led by Nawaz Sharif (PML-N) over reinstating of judges came as the latter decided to pull out his ministers from the cabinet following the collapse of talks on the matter. However, Sharif maintained to support the present government from outside.
Reportedly the former Prime Minister Nawaz Sharif said on Monday that ministers from his party will resign on Tuesday from their posts and they don't want to be a part of any kind of conspiracy in a democracy.
Earlier, PML-N leader Sharif after two rounds of talks had announced that the deposed judges will be restored with a parliamentary resolution on May 12. However, despite a deadlock extended twice, the coalition couldn't able to reach to a common agreement.
Nawaz Sharif, who had entered the coalition with the party of slain former prime minister Benazir Bhutto with a precondition that judges sacked by President Pervez Musharraf will soon be reinstated with a parliamentary resolution couldn't materialize on this as one of his election promise.
As per report the PPP wants to reinstate judges with a broader constitutional reform to limit the power of Chief Justice in particular, while Sharif's PML-N wanted this with no any condition. PML-N had intended for an unconditional restoration of judges so that the apex judicial body would able to impeach Musharraf from his chair by declaring his act of emergency unconstitutional.
However, PPP leader Asif Ali Zardari didn't want to destabilize the position of Pervez Musharraf who is also a strong ally of US and UK in the so-called war on terror.
This certainly is a set back to Pakistan's transition of democracy as restoration of judges was essential in entirety considering a free, fair and independent judiciary.
Over a dozen of judges were sacked by President Pervez Musharraf in November last year after they questioned the constitutional validity of Musharraf of holding both Army Chief and the President post.
LATEST IMAGES

MORE...
Social bookmark this page
Post comments: