Sensationalism - a distasteful part of Media
New Delhi, Wed, 23 Apr 2008
Deepak Kumar Mohanty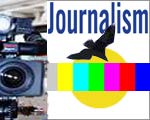 Sensationalism is what drives the media to a distasteful road and more importantly the visual media particularly the television as often seen have forgotten the entire notion of social implication from its each and every story featured, related to sex, suicide, superstition and crime. It's time to get over from just telecasting or writing news but to aware and educate people against such evils.
True journalism is not having a degree orienting towards conventional news but the ability to raise your voice and to understand and maintain the ethical principles and standards of media. However, media these days whether print or electronic are more bother about their circulations or TRP ratings and hence never hesitate to feature moments vulnerable to many.
Earlier it was only restricted to local media but now national TV news channels too have hitting screen with unusual story and most of time creating episodes of their own based on magic and superstition which one guess have nothing to do with news. Though in case of print newspapers baring few and excluding most regional outlet have so far doing their job. But in cases they are too gulfed by marketisation, posing a threat to their existence.
However, to be the responsible fourth pillar of democracy media though need to address public interest but at the same time respect and should be morally responsible for its social implications at large. Journalists need to follow their conscience while reporting sensitive matters such as rape and molestation.
Yes, you can question -- what is wrong in presenting murder as a murder or a rape as a rape?—But as a responsible citizen you have no right featuring the photo of a mutilated body of a girl or those descriptive commentary or writing which are highly precarious to society.
To everybody's knowledge media has its shortcomings in dealing sensitive issues. It is also not right to have a viewer's discretion tag after all who needed those information. Exaggerating with lurid details of any issue just to generate curiosity stands no where to reality and hence it would be better to stick to our obligation of truth with a sense of duty at large.
null
null
LATEST IMAGES
null
null
MORE...
Social bookmark this page
Post comments:

R. S. Sekhon
May 11, 2008 at 12:00 AM