Three Indian workers die in scaffold crash
Manama, Tue, 28 Oct 2008
Sandeep Singh Grewal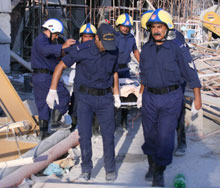 Three Indian workers died in a work site accident after a scaffolding crash in Umm Al Hassam area here on Monday.
According to preliminary information, the labourers were working on the ninth floor when the crash happened. One worker died on the spot while the other two succumbed to injuries at the state run hospital, Salmaniya Medical Complex. Another Indian worker who also sustained head injuries is in stable condition but is kept under observation.
Releasing the details of the incident, Brigadier Khalid Al Absi, General Director of the Civil Defence said they sent a team after receiving a stress call in the noon.
"Our team rushed the two workers to the hospital. They were later declared dead by the authorities. The Public Prosecution and the Criminal Investigation Department (CID) are investigating the case," Al Absi said in a statement.
The Director said they have regularly highlighted to relevant authorities of worksites where employers flout safety rules and workers end up losing their lives or seriously injured.
Twelve labourers have died in the first quarter of 2008. 'Fall from heights' is considered the number one worksite killer according to local experts. At least fourteen workers – all foreigners – died after falling from heights in 2005.In that year some 2,300 worksite accidents were reported, seventy per cent of these from the construction industry alone.
Human rights activists have raised on several occasions worksite accident because of lapses regarding safety rules in the construction sector in the Kingdom. "These deaths show the employers are risking the lives of thousands of labourers. We urge all the authorities to conduct an open investigation in the case and release the report publicly. The Ministry of Labour and other concerned bodies should act now before more people die," Faisal Fulad, Secretary General of the Bahrain Human Rights Watch Society said.
Hundreds were injured in dozens of minor and serious mishaps over the past two years. According to industry estimates, accidents have increased in the construction sector by five per cent every year. The Director of Labour Affairs at the Ministry of Health Shaikha Hanan bint Hassan Al Khalifa reportedly said the statistics of the Occupational Safety Section indicated an increase in number of work-related accidents in the first three months of this year reached 45, including 18 serious cases at worksites.
Several non-governmental organisations have reportedly said that poor workers were confined to charity wards following accidents. With nobody taking care of them and their employers not paying attention or providing assistance, most of the patients end up seeking help from charities, the NGOs said.
According to Central Informatics Organisation, the main statistics body here, the population of the Kingdom in 2007 reached to 1,046,000, including (529,000) Bahrainis with percentage of 50.57% of total population and (517,000) non-Bahraini representing 49.43%. Indians are the largest foreign population with close to 300,000 workers.
LATEST IMAGES

MORE...
Social bookmark this page
Post comments: