India might lose 2010 hockey World Cup
New Delhi, Tue, 01 Apr 2008
NI Wire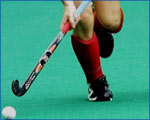 The Indian Hockey Federation (IHF) has been facing the music from all quarters after India's historic Olympic qualifier debacle. The latest jolt for the federation is that India might lose the right to host the prestigious 2010 World Cup that was awarded to India by International Hockey Federation (FIH).
The eight-times Olympic champions India men's hockey team ousted in the last month qualifiers after losing out to Great Britain in the finals. It will be the first time that India's men will miss the Olympics since they made their debut in 1928.
The FIH reconsidered the conditional awarding of the World Cup 2010 to New Delhi, India in its three-day meeting held last week in Lausanne, Switzerland. One of the items on the agenda was the project "Promoting Indian Hockey" and the organization of the World Cup Men in 2010.
The FIH Executive Board said in a statement on its official website that they are not satisfied with the progress made in either of aforesaid area. They have come to this decision after having carefully studied the progress made with the project 'Promoting Indian Hockey' as well as the actions taken in the preparation of the World Cup 2010.
However, the Executive Board decided to give Indian Hockey some additional time, as provided for in the Memorandum of Understanding signed in November 2007 between the FIH and the Indian Hockey Confederation), to urgently address those issues before taking a final decision.
Meanwhile, FIH is also looking for alternative host countries in case the FIH would be forced to take the decision not to host the World Cup in India.
LATEST IMAGES

MORE...
Social bookmark this page
Post comments: