Anand draws, Carlsen closes in on Morelia-Linares
New Delhi, Wed, 05 Mar 2008
NI Wire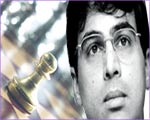 Reigning World champion Viswanathan Anand played out a draw with Hungary's Peter Leko to stay at the top position after the 12th round of Morelia-Linares chess tournament being underway in Linares, Spain on Wednesday.
But India's chess ace has to pull up his socks in the last two rounds to defend his Morelia-Linares title as Norwegian wonder-boy Magnus Carlsen closes in on the title hunt with just a point behind the leader. There are still two more rounds to go in the tournament.
Anand attacked with his favourite Ruy Lopez opening playing with white against Leko, but the Hungarian defended well resulting a draw in the end. With this draw, Anand took his point's tally to 7.5 out of a possible 12.
The highlight of the day was the triumph of 17-year-old Magnus Carlsen over former world champion Veselin Topalov of Bulgaria. Carlsen, who had lost the earlier round game against Leko, was in a destructive mood since he got off the blocks in an attacking mode in quest of a victory.
Carlsen was two pawns down after adopting the attacking approach against the former FIDE world champion Veselin Topalov, fought back hard to equalise in time and notched up an amazing victory.
The win helped Carlsen to a great extent as he bridges the lead gap from the leader and now remains only half point adrift from Anand.
The remaining two matches of the day yielded no results as they ended in a draw. Alexei Shirov split points with L. Aronian while V. Ivanchuk shared points after settling for a draw with Teimour Radjabov.
RESULTS AFTER ROUND 12
V. Anand ½-½ P. Leko M. Carlsen 1-0 V. Topalov A. Shirov ½-½ L. Aronian V. Ivanchuk ½-½ T. Radjabov
STANDINGS AFTER ROUND 12
1 V Anand 7.5 Points 2 M Carlsen 7 Points 3 L Aronian 6,5 Points 4 V Topalov 6 Points 5 V Ivanchuk 5,5 Points 6 T Radjabov 5,5 Points 7 A Shirov 5 Points 8 P Leko 5 Points
LATEST IMAGES

MORE...
Social bookmark this page
Post comments: