Congress activists honour Sibal
New Delhi, Mon, 19 Dec 2011
Noor En Ahmed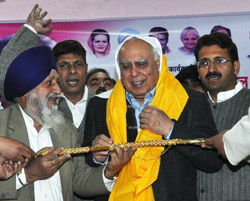 The congress activists of Shakoor Basti assembly constituency on Sunday evening honoured Union Telecom and Human Resource Minister Kapil Sibal at Jhang Bhawan, Rani Bagh, Delhi as being a prominent representative of the region in India's top house of representative.
Kapil Sibal was invited here in a Congress activist's seminar at Jhang Bhawan to get aware about the problems of Shakoor Basti constituency that falls under his parliamentary constituency. The activists were hoping an absolute assurance from his MP regarding to get solved the problems, but Kapil here too spoke like a union minister and highlighted his ministerial duty.
However, recognizing the pulse of localities, he didn't deny to work but also not assured them to get solved those quickly.
'Actually, as being a telecom minister, I have to look foresight, I have to work for the future of next generation, to update you and your children with the steps of modern technologies,' said Kapil after carefully listening the problems of activists.
He also advised to elect appropriate persons for the post of councillors and MLAs (Member of Legislative Assembly) in the next election from the Congress Party, as at present, both the seats are under Bhartiya Janta Party (BJP).
Earlier, after reaching in the seminar, he was honoured by presenting garland, flower sticks and Saropa ? the holy shawl of sikh community and president of seminar Devraj Arora presented him the list of the problems of localities.
Kamal Kant Sharma, the member of AICC earlier stated that Kapil Sibal has honoured this region as being union minister in Indian government.
'We are proud of him,' he added.
Stressing on the importance of activists senior Congress member, H N Bhardwaj said that activists were the backbone of any party and anyone who reached on the top only because of the hard work of activists.
He called the activists to get ready for the forth-coming councillor election scheduled in next year.
Besides organizer, Ajay Virmani, Coordinator Trilok Singh, some special guests including Nandlal Chachda, Roshanlal Ahuja, Chaudhary Soorat Singh, Jathedar Baldev Singh, Sardar Sukhdev Singh, Kashmiri Lal Virmani, Smt. Preeti Jain, Indra Gulati, Kailsh Khurana and Ajay Kaliya were also present in the seminar.
LATEST IMAGES

MORE...
Social bookmark this page
Post comments: