Indian shuttlers bow down to Japan
New Delhi, Fri, 22 Feb 2008
NI Wire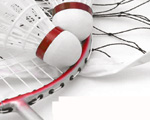 After blanking Pakistan in the opening round, Indian shuttlers had a miserable outing against formidable Japan in the next round as they meekly surrendered against their Asian opponents after being crushed 5-0 from their hands in the Thomas Cup Asian qualifiers being played at the Ho Chi Minh City in Vietnam on Friday.
The same story occurred in the Women's section as they went down 1-4 against Malaysia in the Uber Cup. The women team made it to quarters despite this heavy loss and now faces the Koreans in their quest to make it to the Uber Cup World round.
Indian men's team who had already qualified for the quarters will now have to fight it out with Asian powerhouse Malaysia, Group 'A' toppers, on Friday in the quarterfinals to qualify for the Thomas Cup.
India has a tough task in their hands as the four semifinalists will make it to the Uber Cup in Jakarta in May, but with a condition as the fourth placed team will only go through if it is ranked higher than the team finishing fourth in the European preliminaries.
Indian team had disastrous start when skipper Anup Sridhar lost the opening tie 21-17 21-15 in straight sets against Shoji Sato of Japan in just 35 minutes.
The duo of Sanave Thomas and Rupesh Kumar showed some resistance against the Japanese pair of Keita Masuda and Ohtsuka Tadashi before going down 21-9 19-21 21-14 in under an hour.
Arvind Bhat tried hard to stay his team in contention but faced a 21-18 18-21 21-15 defeat from Sho Sasaki. Shuichi Sakamoto and Shintaro Iketa add further misery in Indian camp as they took just 25 minutes to crush V Diju and Akshay Dewalkar 21-13 21-12.
Japanese Kenichi Tago did the final act to complete the rout as he overcame India's Chetan Anand challenge with an identical score of 21-19, 21-19 in exact half an hour.
In the women's section, Aditi Mutatkar is the only Indian, who scored lone victory against its South East Asian opponent Malaysia, who claimed top spot in Group Z that had only two teams.
India's rising badminton teenager Saina Nehwal came close to win her tie but eventually ended up on the losing side. Saina comfortably won her first game 21-15 against Mew Choo Wong but lost the second game quite closely with a score of 20-22 after putting up a strong challenge. Saina lost the third game and the match with a final scoreline of 15-21, 22-20, 21-17 in a keenly contested match that lasted close to an hour.
India trailed by two after Trupti Murgunde lost to Julia Pei Xian Wong 21-10 21-12 without posing any challenge in just 20 minutes. Aditi raised some hopes in the Indian camp as he beat Anita Raj Kaur 21-9 26-24 in exact half an hour.
But the Indians failed to raise the standard of their game in doubles. Jwala Gutta and Shruti Kurian lost 21-16 21-17 to Pei Tty Wong and Eei Hui Chin in 30 minutes.
In the last inconsequential match, Saina and Aparna Balan failed to sustain their lead and went down 16-21 21-10 21-11 to Pek Siah Lim and Chiou Hwee Haw in just over half an hour.
LATEST IMAGES

MORE...
Social bookmark this page
Post comments: